As we are already aware Microsoft has been pushing the Windows 10 very aggressively, it wants to create a tightly knit Windows 10 ecosystem and bring more devices on the board. As of now a whopping 200 million devices have been running Windows 10 globally and the volume of success can be attributed to the fact that Microsoft offered the Windows 10 as a completely free upgrade from the previous versions.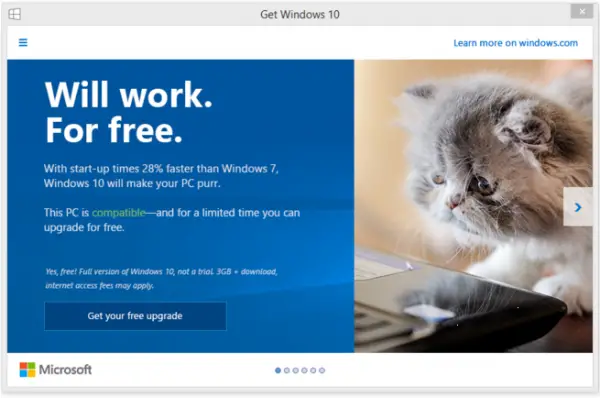 Upgrade to Windows 10
Microsoft has now focused on how to make the Small businesses upgrade to Windows 10 easily and make the shift with minimum resources. Just like how the consumers are upgrading to Windows 10 from an easy to use interface from the system tray now even the Business users will be able to do so.
Says Microsoft:
In an effort to streamline the process, we will automatically kick off the upgrade process once you have made a reservation. Before the upgrade changes the OS of your device, you will be clearly prompted to choose whether or not to continue. And of course, if you choose to upgrade, then you will have 31 days to roll back to your previous Windows version if you don't love it.
The "Get Windows 10" app will be rolled out to the devices in the US which meet a certain preset criteria's. The Get Windows 10 app will be rolled out next month and this will help the small businesses to upgrade with just a click of the button. The machine in question must be running a licensed version of Windows 7 Pro or Windows 8.1 Pro and it should further be configured to receive updates directly from the Windows Update service (updates should not be managed by WSUS or System Center Configuration Manager). The machine should also be connected to an Active Directory Domain.
Microsoft will  will soon be publishing Windows 10 as an Optional Update in Windows Update for all Windows 7 and Windows 8.1 customers. Early next year, they will be re-categorizing Windows 10 as a Recommended Update.
These changes are expected to address the needs of the organizations which could take advantage of the free upgrade.
Microsoft has also documented a procedure that will allow you to block Windows 10 upgrade in Windows 8.1/7 using Group Policy or Registry.