It was 1st October 2014 when Microsoft released the first Technical Preview Build of Windows 10 for users. The launch of Technical Preview Build was the official start of the Public Beta program for Windows 10, known as the Windows Insider Program. Insider Preview Builds are the pre-released builds of the Windows operating system that let users install and test the features that will be available in the Stable Build of Windows in the future. To download and install Insider Preview Builds, users have to sign up for Microsoft Insider Program. In October 2022, Microsoft completed 8 years of the Windows Insider Program. It is the 8th Anniversary of the Windows Insider Program.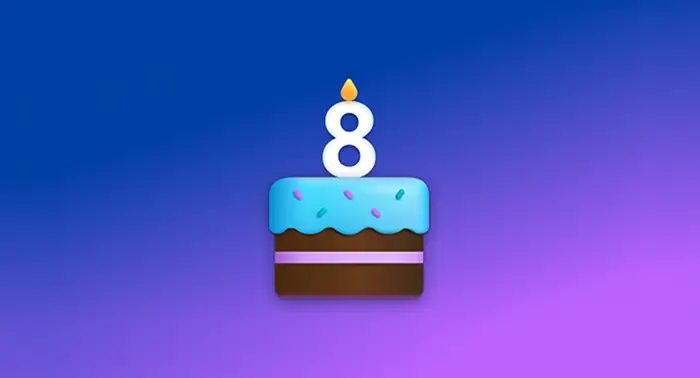 Windows Insider Program is 8 years old
The Insider Preview Build was first released for Windows 10 and continued for Windows 11 operating system. To celebrate this milestone, Microsoft has especially designed the anniversary wallpaper for Insiders and other users which can be downloaded from insider.windows.com. In a blog post, Microsoft wrote:
Dear Windows Insiders, this month we are celebrating the 8th anniversary of the Windows Insider Program. Your energy and enthusiasm have helped shape the Windows we see today. Thank you for being a valued Insider and making our community strong and passionate. To celebrate this milestone and our 8 years together, we specially designed the anniversary wallpaper exclusively for you.
Says Amanda Langowski:
One of our core values at Microsoft is about embracing a growth mindset, which allows us both to innovate more freely and learn where we could improve, and Insiders are such an important part of our learning. I love seeing how our community uses Windows every day and their connection to new experiences we offer in preview builds.
Brandon LeBlanc added:
I don't have a specific moment to call out, however I continue to come to work every day loving the Windows Insider community and feeling delight in releasing new builds and updates to them each week. I love the immediate response we get from Insiders on new features and changes they enjoy (and don't enjoy). With this year's anniversary, I reflect over the last 8 years and find myself even more proud at how much this community influences what we do with Windows and how they influence what is yet to come!
Jason Howard said:
Each anniversary of the Windows Insider Program is cause to reflect and be thankful for the community we've built. Whether it's coming together to chat on the webcasts, meeting up at Microsoft events, or virtually across social media, the support and passion of Windows Insiders continues to influence the future of our products and I'm excited to see how we continue to grow together.
Have a look at Windows Insider Program Journey
Microsoft launched the Insider Preview Build for developers and enterprise testers to test the features in pre-released Windows builds. Approximately 7 million people took part in Windows Insider Program by September 2015. In February 2015, Microsoft started to roll out the preview build for Windows 10 mobiles.
After the release of Technical Preview for Windows 10, the Windows Insider Program was merged with the Settings app where users could install the Insider Preview Builds as an optional feature.
In May 2017, Microsoft decided and announced to extend the Insider Program for Windows Server 2016 and released the first preview build in July 2017.
In June 2021, Microsoft announced to extend the Insider Program for Windows 11 and released the first Insider Preview Build for Windows 11 in June 2021. The stable build of Windows 11 was released on 5 October 2021.