With the changing technology and the screens, Microsoft found a need to update their default font to have sharpness, bring uniformity and look good on all kinds of screens and resolutions. To make that happen, they have decided to replace Calibri, which has been the default font in Office software for 15 years with Aptos.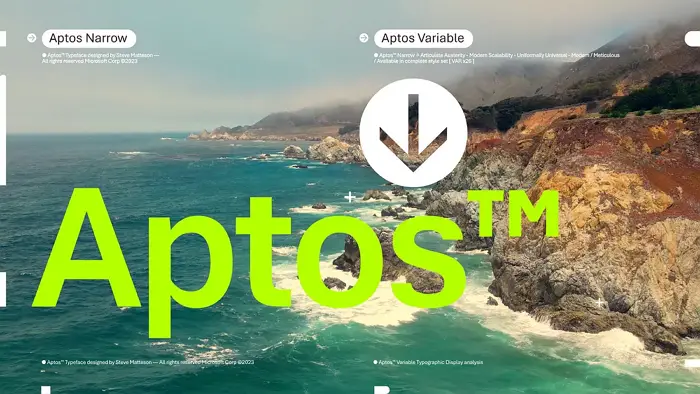 Microsoft changes the default Office font to Aptos
Microsoft commissioned five new fonts with the hope that one of them would become the default font for Microsoft 365. The five fonts are Bierstadt, Grandview, Seaford, Skeena, and Tenorite. They all were added to the drop-down font picker menu and listened to user feedback and chose one which is liked by many, Bierstadt. They renamed Bierstadt to Aptos now.
Aptos will now start to appear as the new default font across Word, Outlook, PowerPoint, and Excel for hundreds of millions of users around the world according to Microsoft. It will become the default font for every user over the next few months.
Aptos or Bierstadt was created by Steve Matteson, a leading type designer in the world. He previously developed Windows TrueType core fonts and created Segoe. "Steve renamed the typeface he designed from Bierstadt to Aptos after his favorite unincorporated town in Santa Cruz, California, whose widely ranging landscape and climate epitomizes the font's versatility. The fog, beaches, redwood trees, and mountains of Aptos summed up everything that he loved about California. Getting away from digital and evoking the outdoors was akin to getting back to pencil and paper. Drawing letters by hand would play a pivotal role in Steve's creative process." according to Microsoft.
Microsoft also added that like Times New Roman and Arial, Calibri is pre-pinned at the top of the new font menu (web only for now). Aptos will be available under the name Bierstadt for now along with the other four fonts in the font-picker for those who are not yet ready for the change.