Microsoft has announced a program called Chip In to help students and parents purchase a new Windows PC or Tablet, that will come with the latest set of Office applications. With the Chip In program, students with a valid .edu email address, can 'crowd source' funds toward the purchase of a new Windows PC or tablet from friends and family. They can select the device from Microsoft Store catalogue. Microsoft will also 'Chip In' with the first 10% of the cost of the PC via a discount to the overall cost. And the PCs included in the store already reflect the discount. When the cost of the PC is fully funded, Microsoft will include  Office 365 University* at no additional charge and students will be excluded any shipping, handling charges or tax! (* Office 365 University four-year subscriptions available to the first 10,000 participants who fully fund a PC through Chip In.)
Office 365 University 4-year subscription includes the latest Office applications on up to 2 devices (PC or Mac), an additional 20GB of storage in SkyDrive and 60 anywhere minutes with Skype.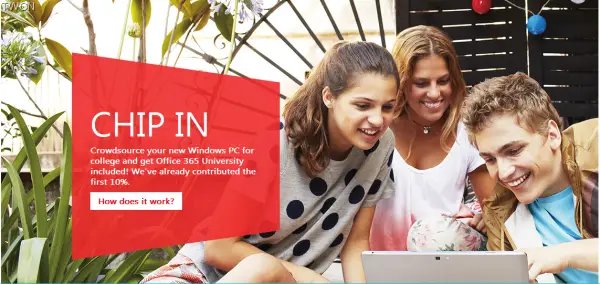 "We know that heading to college is one of the top reasons students buy a new PC — it's a powerful tool to support their education and stay in touch with their families and friends," said Kristina Libby, head of Consumer Communications for Windows. "With Chip In from Microsoft, students can leverage the power of their social networks to help them get a new PC and Office 365 University this back-to-school season."
How it Works
Go to the windowschipin.com site .
Select the PC you want to get the funding for.
Create an account
Request family and friends to Chip In.
Fund and receive a code for a brand new Windows PC or Tablet  and Office 365 University.
Chip In is a pilot program intended for full- or part-time students in the US with an .edu email address. Employees of US educational institutions who have an .edu email address can also participate in the program. The Chip In program runs from June 4th to Sep 1st, 2013.