In the course of recent trading session, Microsoft Corp. and Cisco Systems were found to have most active stocks. The achievement has enabled the two tech giants to come together and concentrate in expanding their cloud storage business, further.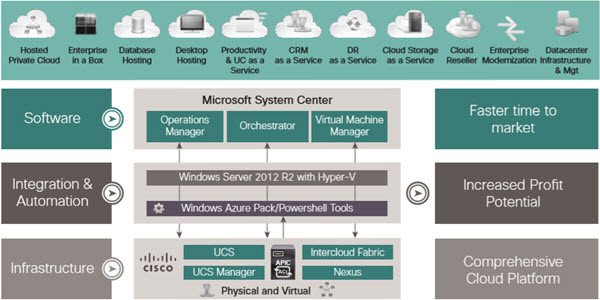 Cisco Cloud Architecture for the Microsoft Cloud Platform
Microsoft Corporation develops, licenses, markets, and supports software, services, and devices worldwide. It aims at developing a new technology platform designed to accelerate service delivery and streamline the journey to the InterCloud for cloud providers. Intercloud is a framework for extending cloud services across data centre boundaries so it's gradually like constructing a cloud of clouds.
Most cloud services of today require close compatibility between hardware, software, network, storage, and compute. Thus, the challenge of getting and simultaneously managing the complexity, cost of integrating the infrastructure required to bring new cloud services to market is placed before the cloud service providers. To address these issues, Cisco and Microsoft are launching the Cisco Cloud Architecture for the Microsoft Cloud Platform.
The architecture promises to offer an integrated solution that combines Windows Azure Pack and Cisco Application Centric Infrastructure (Cisco ACI) to assist cloud providers rapidly deliver hybrid cloud services. The new product is designed to help both companies compete with other players in the hybrid computing space and benefit other cloud providers in simplifying operations and reduce costs.
 "We want our service providers partners to move up-market with us and offer higher-end cloud services," says Nick Earle, senior vice president, Cloud and Managed Services, Cisco. By partnering with Microsoft we're able to deliver a tightly integrated, application centric cloud architecture. This unique new platform will help our partners dramatically accelerate the delivery of new and innovative hybrid cloud services for their customers", he added further.
Will the partnership of Cisco Power and Microsoft Cloud OS Network (COSN) programs fully complement each other and fulfill the needs of traditional enterprise applications? What's your take on the developments.