Microsoft has invested a lot in the cloud and artificial intelligence, but the company is in no way satisfied with its current position in the industry. To move forward, Microsoft needs to inject new talent and ideas into its business, and the best way to do that is by allowing developers to compete.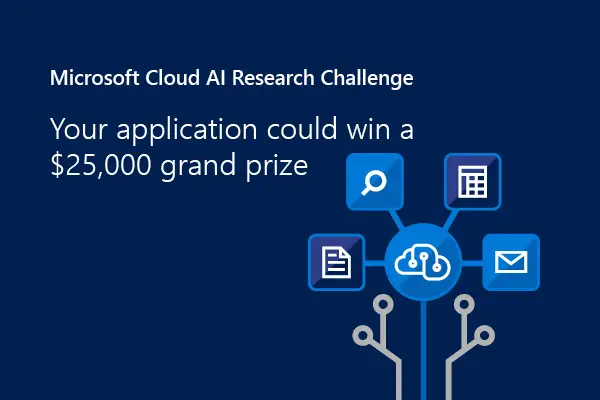 Microsoft Cloud AI Research Challenge
The plan is to have developers from all around the world to compete for a top prize of $25,000. These developers must show how they can use Microsoft AI to advance their research, and the primary way of doing this is by creating applications.
The software giant calls this the Cloud AI Research Challenge, and guess what? Everyone is invited to show what they're made of.
Microsoft says developers must use at least one of the company's AI services, which includes the likes of Azure Machine Learning, Cognitive Services, Data Science VM, Batch AI, Bot Framework, and others.
If you're wondering, these services are at the forefront of innovation where AI on Azure is concerned. Furthermore, developers who fail to win the $25,000 grand prize, there's always the chance to walk away with secondary prizes of $15,000 and $10,000.
"We invite teams of university researchers, students, and employees of public and private organizations to participate. Your team will create a working, interactive software application, in any domain, as long as it's an intelligent system using data and the Microsoft AI platform," says Microsoft.
What Microsoft is looking for
The company is straightforward via its press release. It's hoping developers can use its services to solve difficult problems. Furthermore, the applications should offer new insights into the field the developer is working on.
Now then, when submitting your application, be sure to provide Microsoft with a video that explains what your app is all about. Additionally, you'll need to submit your app by to the Cloud AI Research Challenge by April 15, 2018.
The software giant will announce winners in March 2018.