Just few days back, we have talked about the rebranding of Microsoft Answers to Microsoft Community. It has also been getting many updates. Now with the launch of Windows 8, Microsoft Community gets more updates. The Microsoft Community is updating to provide timely support with the launch of various products like Windows 8, Surface RT, Office 2013. Now it has a forum section for Windows 8 (after RTM), Windows 8 RT, Surface , Office 2013. Microsoft is continuously listening and improving its support experience to its consumers and providing timely support as new products gets launched.
Let us check some of the updates that have happened to Microsoft Community:
Added Surface category which also has accessories and topics drop downs. As Surface RT was launched yesterday, Surface users have a new Forum section too in Microsoft Community
New Windows Version – Windows RT
Version Windows 8 Release Preview changes to Windows 8, Windows 8 Consumer Preview changes to Windows 8 Pre-release
Updated Windows 8 topics, Apps, Windows Subtopics – Now as Apps are also included, Windows Topic will be called Windows Topic and apps.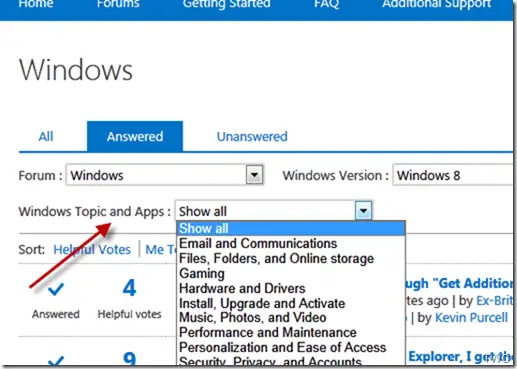 Some topics like 'Music and Sound', 'Picture and Video' merged into new topic 'Music, Photos and video' in Windows Forum
New Windows 8 subtopics added
Some new languages has also been added
New Office version Office 2013 added – has all the Office 2013 topics drop downs
Forum "Hotmail, Messenger and SkyDrive' updated to 'Microsoft Account, Hotmail, SkyDrive'
Windows RT added to Internet Explorer 10
Updated Topic list for Windows Phone 8
These are some of the updates you will see if you visit the Microsoft Community.