Microsoft has revealed Copilot for Windows 11. Windows Copilot will be coming to Windows 11, making Windows 11 the first platform to provide centralized AI assistance for users. Windows Copilot will help users automate tasks, and it will change the way they use Windows 11.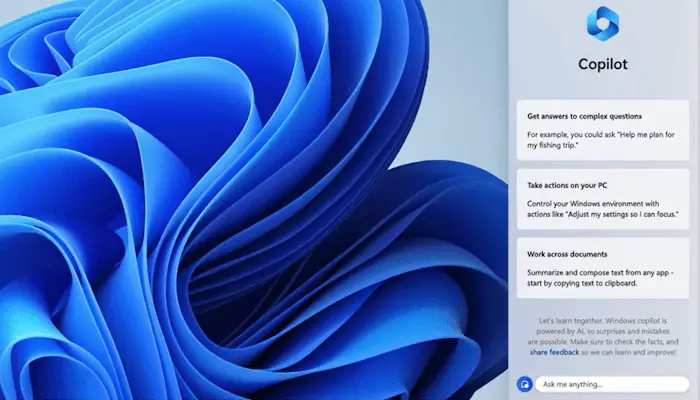 Microsoft Copilot for Windows 11 revealed
Previously, Microsoft announced the integration of the Bing search engine into ChatGPT which will enable ChatGPT to provide users with real-time answers. Now, Microsoft is going to bring Windows Copilot to Windows 11. Windows Copilot will become available in June in the preview for Windows 11. This means that users who have enrolled themselves in the Windows Insider program will be able to use this experience in June.
Windows Copilot: Your personal assistant on Windows 11
Windows Copilot will be available as an icon on the Taskbar. Users can open Windows Copilot by clicking on this icon. Once launched, it will open up in the sidebar on the right side and remain consistent across your apps, programs, and windows.
As we have said above, Windows Copilot will change the way you use Windows 11. With Copilot, you can take action, customize your settings, and connect across your favorite apps directly from the sidebar. For example, if you want to change your theme from light to dark, you can do so directly from the sidebar without opening Windows 11 Settings app.
You can also ask Copilot to perform a specific task in an app, like playing a song on Spotify.
Microsoft 365 Copilot
Microsoft is also going to integrate Copilot into Microsoft 365 apps. Microsoft 365 Copilot will transform your work in different ways. Copilot in Word will help you draft a document and save time in writing, sourcing, and editing. In addition to this, you can also use it to rewrite and summarize a document or explain anything in a document.
You can use Copilot as your assistant to create beautiful presentations in Microsoft PowerPoint and take its help in analyzing and creating professional-looking data in Microsoft Excel.
The Copilot in Outlook will lighten your load by summarizing long thread emails and drafting the reply suggestions. With Copilot in Outlook, it will take minutes and not hours to clear your inbox.
Microsoft Copilot will not only boost your productivity but also make you better at what you are good at.
You can read more details on microsoft.com.