There is no doubt that Microsoft Azure can change how we look at digital resources and sustainable management. However, Mark Russinovich, the Chief Technical Officer of Microsoft Azure, chose a different way to show off the 24TB Azure node's power.
He did this by playing a game of Tetris in using the Task Manager interface of the node. To play this game on the task manager, Russinovich would have had to put the server node under too much pressure.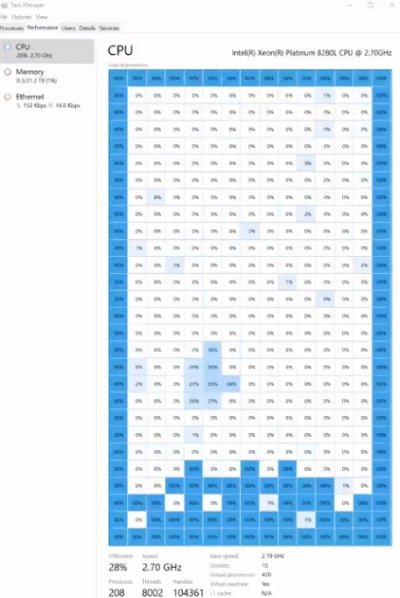 Play Tetris using the Task Manager interface
Nevertheless, the CTO claimed his victory and shared the results through an official tweet.
Achievement unlocked: playing Tetris on Task Manager on the Azure 24TB Mega Godzilla Beast VM: pic.twitter.com/4ntTsRqHEi

— Mark Russinovich (@markrussinovich) December 6, 2020
In the video Russinovich shared on Twitter, this top-tier employee from Microsoft Azure can be seen enjoying a good game of Tetris. It is not clear what happened at the end, but he is pretty impressed with the "Mega Godzilla Beast" Virtual Machine mentioned in the tweet.
In the same video, we can see how the CPU, memory, and network resources take a toll when the CTO is stacking one Tetris block over another one. Of course, the tweet has garnered the attention of tech enthusiasts and professionals who work with Azure and its competitors.
This is not the first video or image of people trying to manipulate the Task Manager on Azure or Windows. A few months back, a Twitter account named Anonymous Operations had shared one video where the team had run DOOM using the Task Manager.
Some experts believed that the video was fake. After what Russinovich has done, the DOOM video has made its comeback to the Twitter community.
Given that the Azure CTO could pull off a Tetris gameplay without putting the Microsoft 365 platform at risk, some believe that the DOOM video was also possible.
On a serious note, all Microsoft services are now working perfectly, and the gameplay from the CTO hasn't impacted anything. The Azure node could pull off something like this is just off the chart.