Microsoft recently announced Azure Sphere, a new solution for companies building IoT based products. Now, there is another news coming from RSA 2018 Conference. Thirty-four global technology companies including Microsoft, Dell, Facebook, Nokia, VMware, etc., have signed a Cybersecurity Tech Accord to improve online security and fight the highly uprising cyberattacks together. These companies have agreed to defend all the customers from malicious attacks by cybercriminal activities and nation-states.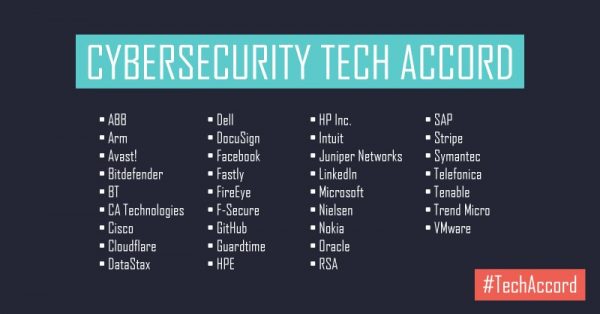 Talking on the subject, Microsoft President Brad Smith said,
"The devastating attacks from the past year demonstrate that cybersecurity is not just about what any single company can do but also about what we can all do together. This tech sector accord will help us take a principled path towards more effective steps to work together and defend customers around the world."
The companies who are a part of this accord are as follows:
ABB, ARM, Avast!, BitDefender, BT, CA Technologies, Cisco, Cloudflare, Datastax, Dell, DocuSign, Facebook, Fastly, FireEye, F-Secure, GitHub, Guardtime, HP INC, HPE, INTUIT, Juniper Networks, LinkedIn, Microsoft, Nielsen, Nokia, Oracle, RSA, SAP, Stripe, Symantec, Telefonica, Tenable, TrendMicro, and VMware.
Principles of the Cybersecurity Tech Accord
The Tech Accord is based on four major principles. They are as follows:
Protection of all the users and customers everywhere: Everyone deserves to be secured. And on this principle, these companies have taken the initiative to mount a stronger defense against these cyber attacks. All the customers, irrespective of their location, the motivation for attacks online, will be provided with security.
Opposition to cyber attacks on innocent citizens and enterprises from anywhere: It is mentioned in the Tech Accord that these companies will protect against tampering with and exploitation of technology products and services during their development, design as well as during its distribution and use. They have pledged not to help governments in launching cyber attacks against the citizens in any way.
Empowering users, customers, and developers to strengthen cybersecurity protection: These companies have pledged to empower developers and the people and businesses that use their technology. This will help them in including joint work to provide new security practices and new features that can be deployed to individual products and services by the respective company.
Partnering with each other and with like-minded groups to enhance cybersecurity: The companies who signed the accord have pledged to strengthen their relationships with each other and with their partners who are onto similar initiatives to empower each other's capabilities and become stronger together in their mission.
For more detailed information, you can refer to this official blog post by Microsoft President Brad Smith.