Microsoft Defender is designed to protect your computer against viruses and malware, and over the years it has done an impressive job. However, things are changing as Microsoft has decided to update the tool to now protect against vulnerable drivers.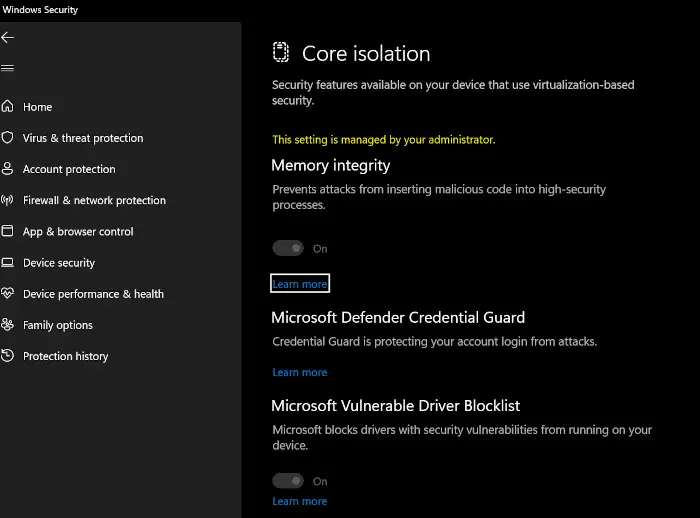 Microsoft Vulnerable Driver Blocklist feature in Defender
New Windows security option: Enable more aggressive blocklist which includes vulnerable drivers – tweeted the Vice President, OS Security and Enterprise, Microsoft.
Vulnerable drivers out there that can cause harm to your computer, and for the longest while Microsoft Defender had few ways to keep these drivers at bay. Users likely had to use third-party security tools to get the job done. But this is no longer the case because of the rise of the Microsoft Vulnerable Driver Blocklist, infected drivers causing havoc may be a thing of the past. This feature aims to effectively block vulnerable drivers from running on your computer system.
How to enable Microsoft Vulnerable Driver Blocklist?
On Windows 11, simply go to the Settings app by pressing the Windows key + I, then navigate to Privacy & Security > Windows Security > select Open Windows Security. From the sidebar, you should see Device Security, so waste no time by clicking on it. Next up, select the Core Isolation link, and from there, toggle on Microsoft Vulnerable Driver Blocklist, and that's it.
As for Windows 10, the task is similar but different. Again, fire up the Settings app using the same method as above, then go to Update & Security > Windows Security > Open Windows Security. Click on Device Security > Core Isolation, and finally, toggle on Microsoft Vulnerable Driver Blocklist.
To tap it off, you must restart your computer, and once completed, Microsoft Defender should now be able to protect your computer from infected drivers designed to cause harm and pain.
The feature is being rolled out.