Following its promise of bringing out transparency in revealing more about how Windows 10 operates, Microsoft has come out detailing how Driver quality evolves in the Windows 10 ecosystem. Elaborating how drivers are tested extensively through a process that involves many companies, Microsoft says that the Windows driver distribution chain consists of three stakeholders namely,
Independent hardware vendor (IHV)
Original equipment manufacturer (OEM)
Microsoft
IHV like Intel, AMD or NVIDIA are first in the driver distribution chain and are responsible for the first wave of testing. Once the hardware is created, IHVs put it through significant testing that typically includes validating OS compatibility using the Windows Hardware Lab Kit (Windows HLK).
OEMs like HP, Dell or Lenovo comes next in the driver distribution chain. They match the new drivers to the various devices they ship and complete their battery of tests. At times, feedback is shared with the IHV and may result in further driver updates. Validated drivers are then released via the OEM's website or update tools, targeting the specific devices that the OEM believes have passed their quality bar.
Microsoft comes last in the driver distribution chain. IHVs and OEMs submit drivers to Microsoft, which is first tested in Microsoft's lab and then eventually shipped to Windows Insiders. If the driver performs well, it is released to Window Update (WU) for Windows customers to download automatically. If the driver doesn't meet the standards, it is rejected and sent back to IHV or OEM to make updates.
Driver Quality Improvements
As a testimony to the improvements seen because of the above three-layered quality approach, Michael Fortin (Corporate Vice President, Windows) and Tom Frankum (Director of Data and Intelligence, Windows) say that the driver quality has gone up in the recent time.
Taking example of crash free (which is defined as the percentage of machines in a population that experience no driver crashes during a given window of time) incidences, Michael and Tom say that the percentage of crash-free Windows 10 devices has increased from less than 97 percent to greater than 98 percent over the past two years. A staggering 1% decline.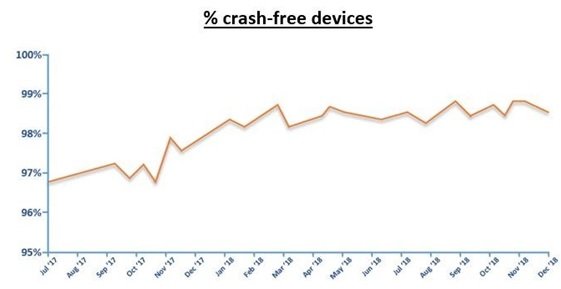 Michael and Tom follow this up with another graphical stat for one specific driver, showing significant improvement from the crash rates in red (August 2016) to the performance in orange (September 2017).

Microsoft says that there is more work to do and it is working with hardware partners to remove the complexity in Windows drivers and, in some cases, eliminate the need for third-party drivers by creating a "class driver" that works for all hardware in a category.