As we close on the release of much talked about Windows 8.1, Microsoft is undertaking several steps to ensure that the release is a success all across. Recently at the Black Hat 2013, Microsoft revealed some of the important security developments coming with Windows 8.1.
Security improvements in Windows 8.1
Terming the security additions to Windows 8.1 as a boon for businesses and individual consumers, Microsoft's Dustin Ingalls mentioned through a blog post.
"The Windows 8.1 update offers a full spectrum of new and improved security capabilities – from features that enable devices to be fully locked down by IT, to remote security options for BYOD devices, to safeguards for personal devices that need to access business resources from home".
Enhanced Data Protection in Windows 8.1
Putting lot of stress on the need to protect sensitive data even when it resides on employees' personal devices, Windows 8.1 will make use of advanced protection tools like
Pervasive Device Encryption: With Windows 8.1, Device Encryption is now available on all editions of Windows for devices that support InstantGo. So if a device supports InstantGo, device encryption can be automatically enabled. As InstantGo will be available on the vast majority of devices, this functionality will be universal throughout the enterprise.
Selective Wipe of Corporate Data:  Windows 8.1 will have Remote Data Removal tool that will allow IT departments to rub corporate data lying on an employee's personal device without affecting any personal data. So in case an employee loses its tablet or PC that contains sensitive information about the company, the IT dept would be able to wipe all the data preventing any authorized access.
Improved Windows Defender
With security threats on the rise, Microsoft brings in update so that Windows 8.1 will have high performance behavior monitoring to Windows Defender that will enable Defender to detect certain bad behaviors in memory, the registry, or the file system; even before signatures have been created.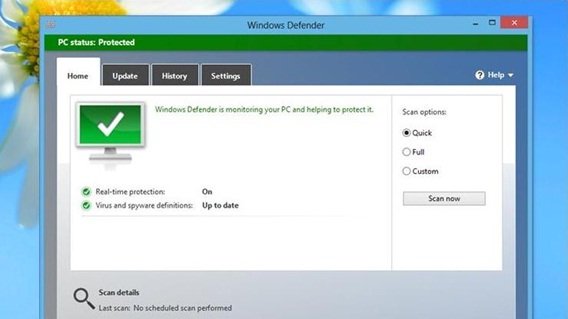 Also featuring in the Windows 8.1 release will be the use of biometrics replacing passwords and API to Internet Explorer that enables anti-malware solutions to make a security determination before a binary extension is loaded. Also there would be an Enhanced Protection mode helping to ensure safer browsing.
So with so many security updates being added here it does seem that Microsoft has given users a strong reason to upgrade to Windows 8.1.