Microsoft bought Skype in October 2011 and the VoIP service has grown by leaps and bounds since then. Microsoft repeated some of the well-anticipated facts for Skype for mobile. Skype app is among the top 10 most downloaded apps of all time on Windows Phone, iOS and Android and the growth rate of Skype on mobile devices each month is double than it was a year ago. At certain points in the day, there are more Skype users on mobile devices than PCs.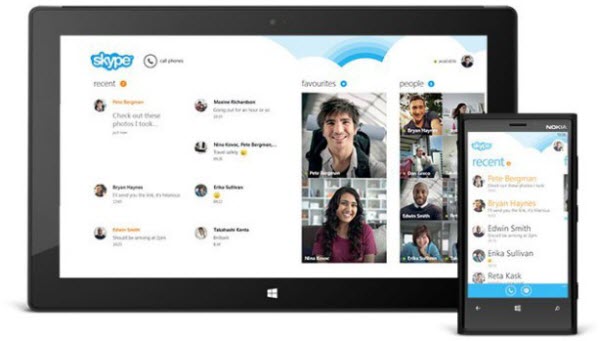 Microsoft is detailing the roadmap ahead for Skype for mobile devices by the end of this year keeping the above points in reference. The latest feedback from users suggests making Skype more reliable and less power hungry.  Users want messaging to be more convenient and easily accessible. They want Skype to be fast, familiar and coherent across all devices. Skype says keeping the feedback in mind; they will shift their focus on improving Skype for mobile devices.
The blog post states that:
Earlier this year, we started making some significant changes under the hood to the way in which our apps work, specifically around reliability, battery life and performance. We debuted some of this work first on Skype for Windows 8 and Windows Phone 8. As we said back then, this work helps ensure that calls and messages come in quickly, reliably and without affecting your battery life. We plan to bring these same enhancements to all the devices you use Skype on.
Skype promises to provide enhancements in the following areas:
Increasing performance and quality will be their number one priority and core of every update they roll out.
Modern design which puts conversations first will be at the heart of a redesigned experience. They promised the design will be bold and beautiful and also simpler and easier to use. The design and experience will be consistent and will respect every device's unique look and feel.
Bringing the complete experience across devices including bringing video messaging, picture sharing and HD video. They said the work done will be visible by the end of the year to bring a consistent experience irrespective of the device you choose.
Skype promised their continuance for regular updates with adaptive plans as per needs evolve and change. They also added that different innovations may come to different devices at different times so users will have to wait till all the features have been deployed across devices before comparing them. Let us know what you feel about the same and if the latest Skype update for your device reflected the plans.