On the occasion of Safer Internet Day, Microsoft is all set challenging people around the world to embrace "Digital Civility." Frankly speaking, this is one of the best online concepts I have come across in a long time. Digital Civility encourages people to be civil in the online world just like how they are in the actual word. People are concerned that the tone of the interactions is of concern and in the future, it will only be magnified further.
Digital Civility Index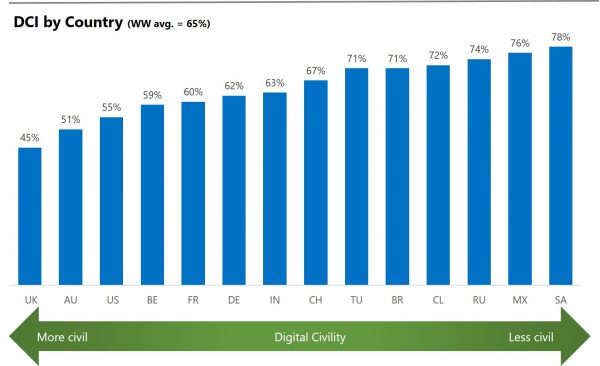 The research has been conducted in 14 countries and the attitudes of people across age groups have been gauged accordingly. Microsoft has also measured the survey respondents lifetime exposure to 17 online risks spread across four categories, namely, behavioral, reputations, sexual and personal/intrusive.
Microsoft has asked questions like "How do you feel about civility, safety and interactions online?", "Which online risks have you and your close friends ", "Where did you and others turn for help?"
The results showed the top five risks to be, unwanted contact, being treated mean, trolling, receiving unwanted sexts and online harassment. Apart from that, it was learned that two out of the five correspondents had fallen victim to one risk talent and that percentage rose to a staggering 78 percent when participants were asked to include the accounts of their friends and family. Fifty percent of them reported being extremely worried online life generally.
In order to render the Digital Civility tangible Microsoft has devised something called "Digital Civility Index" for each country surveyed which is further marked in an international reading that includes all the 14 traits. So it goes without saying, lower the risk exposure, higher is the perceived level of online civility among the people in that particular country.
South Africa is found to be the most uncivil in nature while the United Kingdom at the top of the list. Again rather than the countries on the list it's very important for us to understand the path virtual world is negating. I personally believe that online karma is of prime importance and as humans, we need to maintain a certain level of sanity when online.