Mankind's advancement in the field of technology is happening at such a fast pace with unbelievable results that just-defined boundaries suddenly vanish in thin air, forcing one to either set new limits or sit down and clap in awe of technology. Microsoft proved just that when it displayed a new project at CES 2013 coming from its highly hallowed corridors of Microsoft Research named as IllumiRoom.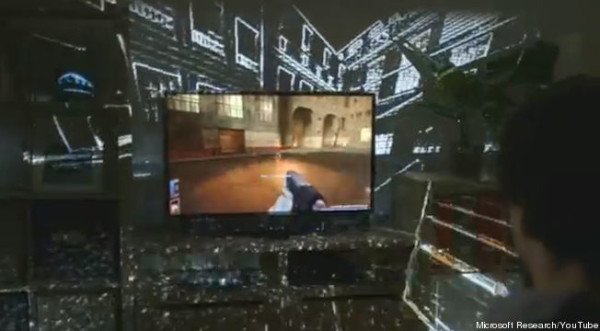 IllumiRoom derives much from its name: 'Illuminating your room'. This interesting project erases the physical boundary of your TV set while playing on the Xbox Console and uses a Kinect to project images and the actual gaming experience outside the TV screen, i.e. on your walls etc. This implies that rather than being tied upon by the fixed dimensions of a TV screen, a gamer can now utilize the whole room space to immerse himself/herself into a whole new gaming experience as the screen output isn't confined till the TV set any more.
Microsoft released a video demonstrating this project and claims that the video is real-time footage and does not include special effects or any tweaks etc. IllumiRoom has the potential to be the next trend-setter for a whole new gaming experience, something which we've seen in the movie 'Gamer' starring Gerard Butler where the kid gamer uses his whole room to interact with the output.
What Microsoft has attempted here is pure brilliance and if this is just the beginning of a simple prototype design, then we can buy ourselves a big square meal over happiness about what is in store for us. Microsoft says there will be more info revealed on the science behind IllumiRoom at the CHI 2013 conference in April this year.
Though not attending CES 2013 in full spirit but with IllumiRoom, Microsoft did leave a mark.