Microsoft Download Center is a place where you can get all the downloads of and for Microsoft software. Not only does it offer links to Microsoft software like Windows, Office, etc, it also offers links to Developer Tools, XBox, Games, Guides, Whitepapers, Themes, Addons and other resources – available as downloads from Microsoft.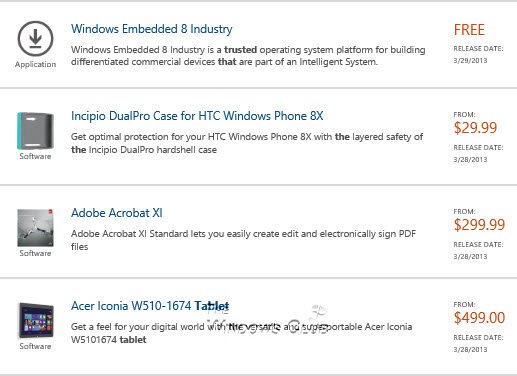 I visit the Microsoft Download Center regularly to check for interesting downloads. Since the last few days however, I am beginning to see third-party software and hardware, which is available in the Microsoft Store, too being listed. This was not happening earlier. Now you can see items like My Passport 500 GB Portable Hard Drive, Adobe Acrobat XI, Acer Iconia W510-1674 Tablet, HP Spectre XT 15-4011nr TouchSmart Notebook, TurboTax Home & Business Federal + E-File + State 2012 and so on, too being listed.
Looks like Microsoft has decided to include items from the Microsoft Store too, with a view to increase the reach of such 3rd-party hardware and software.
It's a nice move since will also expose Microsoft Store items here at the popular portal, but it would be better if they were clubbed separately as Microsoft Store items & downloads, so that they do not end up cluttering the 'real' downloads and resources available at the Microsoft Download Center.