Microsoft Corporation India brings great opportunities for students, institutes and industries via its program Microsoft Ed-Vantage. Launched long back in Oct 2012, Microsoft Ed-Vantage is the right platform for students and institutes to rise to its true potential.
The annual hiring cycle of the program will begin in June 2013 and will last till October 2013. Students need to fill in their details and interest on the web portal and the hiring organizations will contact them on the basis of their details. The hiring decision will solely depend on the discretion of the employer organization, and Microsoft does not guarantee any specific employment.
As per the statement given by the company, "The key aspects of this feedback related to helping the institutions with topics that are most relevant to them, such as partnering with them to bring in more technology innovation and capacity building for faculty and students; and making their students more employable."
Ed-Vantage Program has 4 levels of participation:
Basic
Silver
Gold
Platinum
The Microsoft Ed-Vantage program is the result of a special partnership between Microsoft and MFITDT aiming to benefits to students pursuing Microsoft programs as well as the academic institutions.
Eligible students may apply for the suitable available positions posted by potential employers on the Microsoft facilitated web portal. Students and institutions have to follow specific criteria to get enrolled with the program.
Academic institutions may earn points on the basis of the following criteria. These points will allow them for a certain level of benefits based on the threshold table below.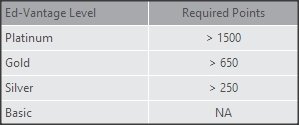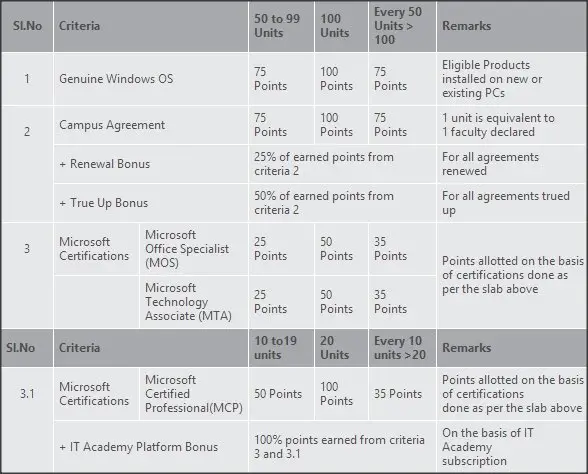 Bhaskar Parmanik, chairman of Microsoft India operations and Orlando Ayala, chairman Microsoft emerging markets said in a press conference that the company will host a Microsoft Innovation Center (MIC), state-of-art technology facility and software solutions for the participating institutions.
The collaborative model of Ed-Vantage program provides the best platform for Indian institutes to bring in more technology innovation and capacity building for students and faculty. This program will bring up the fresh and talented contenders certified on latest Microsoft technologies.
Participation in Ed-Vantage program is invitation based. Institutes can write and seek an invitation from the software giant to join the program.