If you are working online, you already know it's your browser that helps you get most of your things done. Thus, it becomes more important than ever to have a browser that is fast and reliable, no matter how many tabs you keep open. The newly released stable channel of Microsoft Edge 89 makes a sincere attempt to accommodate these improvements.

Microsoft Edge 89 improves browser performance
Apart from the Chromium's intensive throttling feature, the 2 major performance improvements that come to the latest version of the Edge browser include,
Startup boost on Windows devices
Sleeping Tabs (on Windows and Mac)
Both these features are unique to Microsoft Edge and promise to give users the most of their memory and CPU performance.
1] Startup boost on Windows devices
It's quite a regular scene for Windows users to find themselves waiting for the browser to start after clicking the icon or a link. Not anymore, as the Startup boost helps alleviate this concern. The feature makes Microsoft Edge launch more quickly when you need it. The Edge Team says, when the Startup boost is enabled, the startup times improve ranging from 29% to 41%. This performance improvement is achieved by running a set of core Microsoft Edge processes in the background without adding additional resources.
2] Sleeping Tabs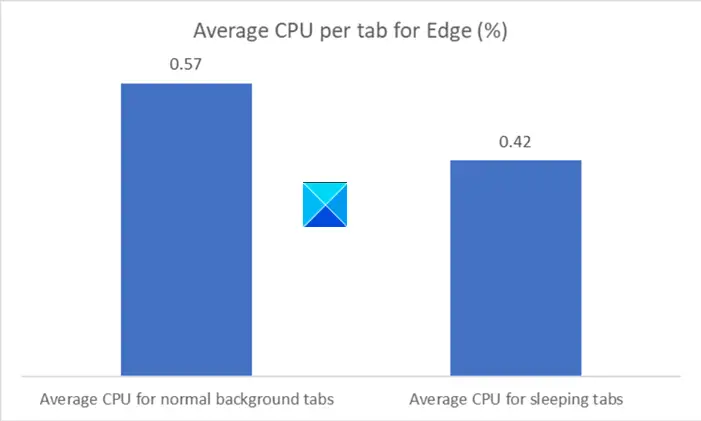 Another major annoyance with most browsers is frequent crashing. With many resource-heavy tabs open, your browser invariably slows down. The Sleeping Tabs feature takes care of this problem. It helps optimize the performance of the browser by freeing up system resources for the tabs you're actively using. It forces inactive background tabs to "go to sleep", releasing system resources (memory and CPU) after a set amount of time for other tabs or applications running on your device.
Average CPU usage of Microsoft Edge, based on experimentation in the Microsoft Edge Beta channel reveals, a sleeping tab uses 26% less CPU on average compared to a non-sleeping tab. Thus, you can open as many tabs as you need and keep them open while you engage in multi-tasking, without losing performance.
Incidentally, this is not the end but just a start of many more amazing features that Microsoft intends to accommodate in the browser to help optimize its performance and overall usability.