Microsoft Edge, the web browser which was exclusively available on the Windows operating system till now, will soon be coming to the iOS and Android mobile operating systems too. Microsoft today made an announcement saying that the company will soon bring their flagship web browser to Android and iOS mobile platforms.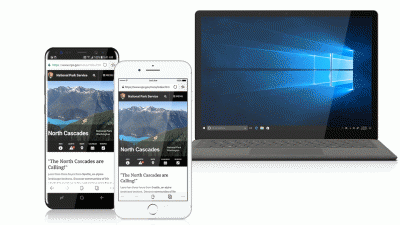 Microsoft Edge for Android & iOS
The official blog post says, "We are excited to continue the work we announced at Build to make Windows 10 PCs work great with your phone. Microsoft Edge for iOS is available starting today in the preview, with Microsoft Edge for Android available soon in the preview. And, Microsoft Launcher is available starting today in the preview as well. Continue on PC functionality in both apps comes with the Windows 10 Fall Creators Update".
With this new cross-platform expansion, Microsoft Edge will come to Android and iOS with almost every major feature such as New Tab Page, Reading List, Reading View on various devices etc.
While the Microsoft Edge preview for both Android and iOS will be made available to the US users today, other countries will be getting it soon. Android users can sign up for the preview from here and the iOS users can go through the Apple TestFlight to test the Microsoft Edge preview app.
Please make a note that the access to the Microsoft Edge Preview for Android and iOS is reserved exclusively for the Windows Insiders. Sign up, select your device and verify your eligibility to get an access.
Besides the web browser, Microsoft will also rebrand the Arrow Launcher as Microsoft Launcher for Android. The company today launched the preview release of the new beautiful and customizable Microsoft Launcher for Android.
Microsoft Launcher represents the "graduation" of the 4.6-star rated "Arrow Launcher" project that was developed in our Garage – we're making a big update to Arrow and changing its name. Everyone on the Arrow Launcher beta will automatically get the Microsoft Launcher today, and any other Android users can join the preview of Microsoft Launcher beginning today as well"
You can download the Microsoft Launcher App from the Google Play Store. You can also take the testing version of the same.