Apple's iOS 14 operating system brings good news for Microsoft. Now, the Redmond-based company can provide iPhone and iPad users with several new Microsoft 365 capabilities including faster access to frequently used apps, more personalization, among other things.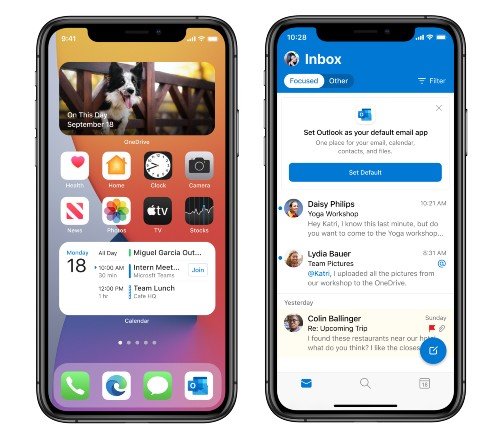 Set Edge as default iOS 14 browser
In its recent blog post, Microsoft had this to say:
"Microsoft continues to invest in solutions that feel at home across the ecosystem of devices as Microsoft customers continue to adopt Apple products for their personal productivity and business needs in the modern workplace and at home."
There are so many new app-focused capabilities offered in iOS 14 that Microsoft can benefit from. One of then is the new Apple App Library to automatically organize your apps. The iOS 14 operating system also allows users to set email and browser from Microsoft as the default apps.
Once you install iOS 14 on your iPhone and iPad, all you need to do is update Microsoft Edge to its latest version. This way, you can easily set Edge as the default web browser application on iOS 14 devices. Similarly, users can set Outlook as the default email client on iOS devices.
Personalize your iOS experience with Microsoft apps
As we said, iOS 14 delivers even more personalization capabilities. Now, Outlook and OneDrive users can add widgets to their iPhone and iPad home screen. Similar to Google Photos, a personal OneDrive account highlights photo memories from the 'On This Day' feature.
"With the flexibility to pick your widget size and location, you can stay on top of what matters at a glance with an Outlook Calendar widget to see what's next in your day with your work, school and personal account," Microsoft added.
New mail and Calendar complications for Outlook
Outlook for Apple Watch users can stay on top of what's important at a glance, courtesy of watchOS 7. The iPhone maker has enabled Outlook to come up with certain new complication improvements for email and calendar.
In addition to choosing from either or both email or calendar complications, the calendar complication on Apple Watch will now consist of a color code indication of your availability status using your Outlook Calendar data.
Apple Watch will also display the number of unread messages from your Outlook Focused Inbox.