In a web summit held on May 5, Microsoft has launched a new developer website for Edge, the new Windows browser. The website which is still in its Beta stage, is especially created for the developers where they can know more about this latest web browser and its updates.
Microsoft Edge Dev Blog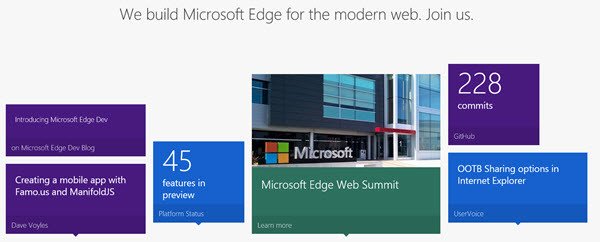 The official news posted in the Windows blog states, "we're launching a beta of the new Microsoft Edge Dev site, the successor to Modern.IE. This is our unified resource for web developers looking to learn about Microsoft Edge and the team that builds it, and is where you can updated versions of our cross-platform site testing tools"
Basically it would be a one stop portal for the developers to know each and every technical details about the browser and its changelogs. Team Microsoft is further working on the website to make it a platform for having an open conversation with web developers.
The new website will also provide the latest buzz about Internet Explorer 11 and its updates which will still be available in Windows 10. While Microsoft announced Microsoft Edge to be the new default web browser for Windows 10, the company has decided to continue to maintain IE 11 on Windows 10.
The new Microsoft Edge Dev blog will further include a new Platform Status page, a Microsoft Edge change log, a new developer FAQ and a live document of Windows 10 where the developers can clear all their queries. The new developer FAQ in the Microsoft Edge Dev blog will be a compilation of the most commonly asked questions in the ASKIE chats and their answers.
If you're a web-developer, and excited about Microsoft Edge, stay tuned to the blog, Microsoft will soon be sharing more details on its upcoming web browser.