Two popular extensions made for Microsoft Edge browser was accidentally revealed today. A Twitter user by name WalkingCan captured a webpage that revealed details on Reddit and Pinterest extensions which were exclusively built for Microsoft Edge browser.
Microsoft Edge Extensions page spotted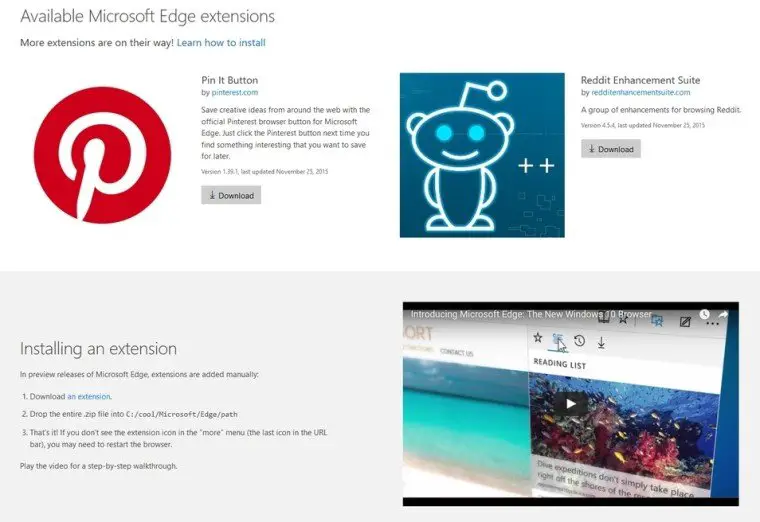 Microsoft has done their best in bringing the Edge browser to Windows 10 – adding all the best-in-class features and making it "lightening fast". The only bottleneck the Edge browser is currently facing is the lack of support for extensions. For many, the "extensions" are something which they use in their day to day life – A browser with extension support is what they expect.
Microsoft already had plans to bring third-party extension support by the end of 2015, but the company recently announced that extensions wouldn't be coming anytime sooner and is going to be delayed until next year.
As pointed by the Twitter user, the webpage with extensions support (see screenshot) has been currently removed by Microsoft and leads to an error message.
The support for extensions will be first added to Microsoft's Edge desktop browser,and there is no much clarity if it could make it to mobile version of Edge browser. With the introduction of extensions support, the Microsoft Edge browser definitely finds more adoption than which is currently.
For the official roll out of edge extensions, we will have to wait and watch until next year. Although big names in social media houses like Reddit, Pinterest will be looking for these opportunities to leverage their presence, it is going to be yet-another challenge for Microsoft to attract developers towards building extensions for Edge browser.
Source: WalkingCat | Twitter