Unlike other web browsers, Microsoft Edge has been in head-to-head combat with Google Chrome in the web-browser war-field. Edge has been doing this by introducing new features that people have always liked to see on web browser applications like Chrome.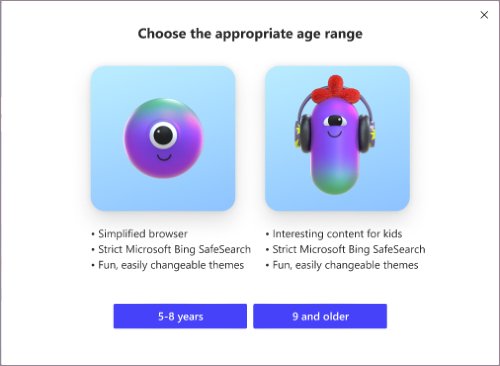 Kids Mode in Microsoft Edge
The latest on that list is the Kids Mode, made available to the Canary build of Microsoft Edge. If you have installed Microsoft Edge Canary as a part of testing, you can now check out the Kids Mode, a convenient browsing mode designed for kids. It places a few safety guide rails to protect kids' privacy and security while browsing the web.
For instance, Microsoft Bing can customize the interface and content delivery when a kid starts using the Kids mode. Users can choose between customized Edge themes and a filter that only shows kid-safe content. Similarly, there are options for creating an allow/block list of websites, Bing SafeSearch customization, and one for setting up a password.
"Kids Mode is a convenient browsing mode inside Microsoft Edge that's designed for kids. With its kid-friendly features and safety guardrails in place, Kids Mode is a great place for children to safely explore the web. Kids Mode includes features like custom browser themes, kid-friendly content, browsing based on an allow list, Bing SafeSearch set to strict, and a password requirement to exit. Also, Kids Mode doesn't require a child account or profile," Microsoft said.
Microsoft will also recommend a few choices that you can pick based on the age of your kids. The supported versions of Edge will also have some different sections under the 'Family' tab in Settings. This section will provide ample information on how to customize the Kids Mode within Edge.
We do not have a specific timeline regarding the availability of Kids Mode on the Edge browser. It is currently available in the Canary build and works for the US English variant of Windows and macOS. However, some sources indicate that the feature would be coming to the Dev channel very soon.
It's also worth noting that the Kids Mode on Edge doesn't require your children to have an account, which isn't the case elsewhere. In short, the proposed Kids Mode on Microsoft Edge seems powerful enough to take on the existing options. However, we still do not know the ad policy for the Kids Mode.
Considering the time Microsoft takes to test some features privately and publicly, we will be seeing the Kids Mode feature only in a few weeks. If you are desperate and don't want to wait, you can download the Edge Canary variant, but that version may have unfinished features and bugs.
Learn how to use Kids Mode in Microsoft Edge browser on Windows 10.