After a long time of waiting, we can confirm today that Microsoft Edge is now available officially for Linux-based operating systems. Back in October of last year, Microsoft released Edge in both the Dev and Beta channels, but as of right now, the web browser is available in the Stable channel for all users.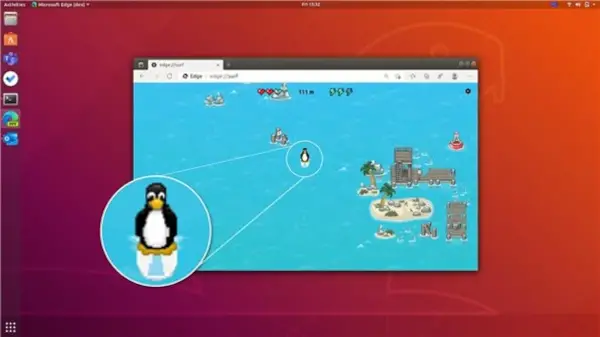 Microsoft Edge is available for Linux
So, as it stands right now, Microsoft Edge is available on all the major platforms in the form of Windows, Mac, iOS, Android, and now Linux.
To celebrate this moment with Linux fans, the Microsoft Edge Surf game (edge://surf) has a visitor from the Linux world in the Edge 97 release's Dev channel.
If you want to download Microsoft Edge for Linux, please visit the official Microsoft download page. From there, select either Linux (.deb) or Linux (.rpm) and that's it.
Internet Explorer Mode retirement in 2029
OK, so Internet Explorer is set to meet its end come the year 2022, but that doesn't mean websites that were built with IE in mind will no longer have visitors. You see, Microsoft Edge has an IE Mode feature for the many organizations that still rely on backward compatibility.
What that means is, the same IE11 apps and sites you use today can open in Microsoft Edge with Internet Explorer mode. However, it's not something organizations should rely on upon forever because the software giant is looking into shutting down IE Mode for good come 2029.
That is a whopping 8 years for companies to modernize their apps and websites.
Microsoft said IE Mode will support the following functionalities:
All document modes and enterprise modes
ActiveX controls (such as Java or Silverlight). Note: Silverlight reaches the end of support on October 12, 2021.
Browser Helper Objects
Internet Explorer settings and group policies that affect security zone settings and Protected Mode
F12 developer tools for IE, when launched with IEChooser
Microsoft Edge extensions (Extensions that interact with the IE page content directly are not supported.)
If you have any questions, please feel free to ask. We are always here to help.