Microsoft has always been concerned about student education programs. With their commitment to empowering every student, the Microsoft Education has launched a new set of Windows 10 devices starting at $189.
From OEMs like JP and Lenovo, these new laptops are specifically designed for the schools who don't want to compromise with Chromebooks. Microsoft is also offering free professional development along with some new Office 365 learning tools for students.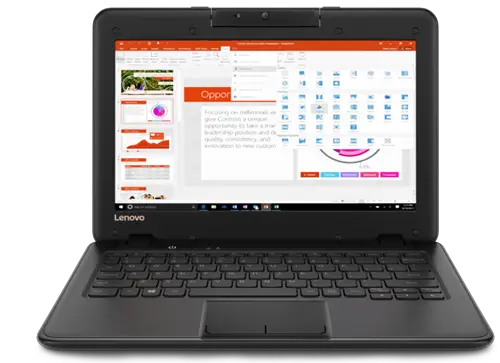 The official blog post says,
"Affordability is the top priority for many schools. Shrinking budgets can lead schools to choose devices with a stripped-down experience and a limited lifespan, unfortunately costing more over time and offering less to students".
Windows 10 devices by Microsoft Education
The Lenovo devices launched for schools include-
The Lenovo 100e, a brand-new Intel Celeron Apollo Lake powered PC starting at just $189 USD**.
The Lenovo 300e, an affordable 2-in-1 convertible PC with pen support, starting at $279 USD.
The affordable Windows 10 machines from JP include-
The Classmate Leap T303 laptop with Windows Hello, starting at $199 USD.
The Trigono V401 2-in-1 with pen and touch, starting at $299 USD.
Other offerings for schools from the company include the professional development free with the Microsoft 365 A1 licenses for their Windows 10 devices. Qualified K-12 schools will get free training up to a maximum of 3 days with a purchase of 30 or more Microsoft 365 A1 licenses. Needless to say that the training will be given by the qualified Microsoft Education Training Partners.
Please note that this offer will be available only to the US schools from February 1, 2018, through December 31, 2018. 
Furthermore, Microsoft is also adding dictation to Office 365 thereby making it easier for students to write using their voice. Also, the Immersive Reader assistive technology to Word will be made available for Mac, OneNote Mac, OneNote iPad, Outlook Desktop, and iPhone. Microsoft also has plans to make Teams (the group chat software)  accessible for Android and iOS thereby making it a "digital hub for the classroom".
That is not all, Microsoft is also adding new science curricula for MakeCode for Minecraft and a Chemistry Update to Minecraft. It will be rolled out sometime in the month of March. Head over to the official blog post to know more.