Microsoft will continue its traditional 10-year support lifecycle for Windows 10 meaning, the new operating system will be supported till 2025. A lot of discussions, speculations were going on about how long Microsoft will provide free updates for Windows 10. Some were speculating that it will start charging Windows 10 users for updates, 2 to 4 years after its release. All these rumors of Windows 10 upgrade being not actually free, were put to rest as Microsoft has updated its Windows lifecycle fact sheet page.
Windows 10 End of Support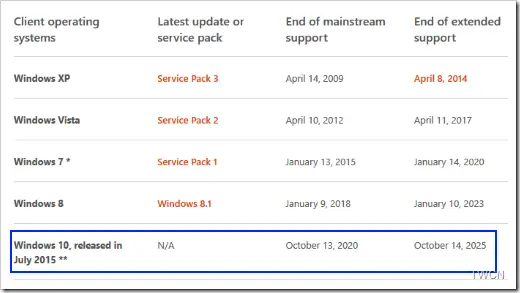 Every Windows product has a lifecycle. The lifecycle begins when a product is released and ends when it's no longer supported. End of Support refers to the date when Microsoft no longer provides automatic fixes, updates, or online technical assistance. So without Microsoft support, your OS will no longer receive security updates that can make your PC vulnerable to harmful viruses, spyware, and other malicious software.
There is a difference between mainstream and extended support. The 10-year support life cycle for Windows 10 consists of the 5-year mainstream support phase which begins with the release date that is 29th July 2015. And another 5-year extended support phase begins in 2020 and it'll go up to October 2025.
There will be no charges for updates during the supported phase. It is possible that all features in a future version of Windows may not work on all devices. For example, the new Windows Hello feature will be supported on a few handfuls of devices at launch. But those devices will still get security fixes and other supported feature updates. And this has been cleared in the footnote of the chart as can be seen in the full text of the footnote below:
Updates are cumulative, with each update built upon all of the updates that preceded it. A device needs to install the latest update to remain supported. Updates may include new features, fixes (security and/or non-security), or a combination of both. Not all features in an update will work on all devices. A device may not be able to receive updates if the device hardware is incompatible, lacking current drivers, or otherwise outside of the Original Equipment Manufacturer's ("OEM") support period. Update availability may vary, for example by country, region, network connectivity, mobile operator (e.g., for cellular-capable devices), or hardware capabilities (including, e.g., free disk space).
But one thing is still not clear that what will happens after Windows 10 completes 2 or 3 years. As in the past, that is the time when a new version of Windows take its place in the support lifecycle chart. One has to wait and see.
Source: Windows Lifecycle Fact Sheet.
You might want to take a look at some Windows 10 tips and tricks too!