'Watch, pause, and record live TV. Enjoy online entertainment and do it all from your living-room couch! That's what the description for Windows Media Center reads as. But of late, quite a few users have been reporting the issue with the Microsoft's media service.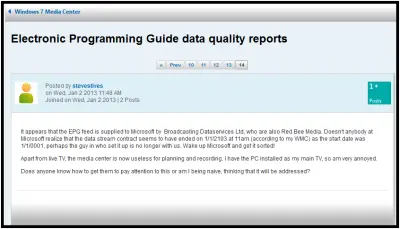 Microsoft EPG Media Center Outage
Windows Media Center users from UK have complained that the electronic programming guide (EPG) data has disappeared from the service as of 1 January. They highlighted the EPG outage problem in a forum, outlined their frustration and expressed unhappiness over the issue.
They stated due to the removal of the complete programme guide information users were unable to plan recordings or watch their favorite shows. The problem now appears to be widespread affecting all iterations of Media Center. Services such as Red Bee which hold contracts with Microsoft could have been a reason for the outage but a cases of certain individuals frees them from the issue.
A person with the username of Philipfd stated that he has talked to RedBee who is claiming that the fault is on Microsoft and that there is nothing (RedBee) can do. Meanwhile, Microsoft has acknowledged EPG Media Center outage for the UK and is currently working on a fix.
A small section of Media Center users running Windows 7 (including a Reg staff member) have remained unaffected, however.