Microsoft recently announced an exciting new feature called Xbox Play Anywhere at E3 2016. This feature enables a never seen before seamless integration of gaming titles on Xbox One as well as Windows 10 on PC. Today, the tech giant launched the first gaming title Recore under this new series.

Recore, developed by Comcept and Armature Studio and published by Microsoft Studios is a third-person action adventure game and has been critically acclaimed all across the industry. This is certainly not going to be the last title either, with all of the games Microsoft announced at E3 also supporting this.
Xbox Play Anywhere
You can buy any Xbox game and play it on your Xbox One gaming console as well as on your Windows 10 PC without paying anything extra. However, to download Xbox Play Anywhere you first need to get the latest update on your Xbox One console, get the Xbox Live Gold subscription and install the Windows 10 Anniversary Edition update on your PC to use Xbox Play Anywhere. The games played on Xbox Play Anywhere are saved on Xbox Live and can be picked up from the Windows PC. It brings all your saved games, achievements and game add-ons.
To play the game the way it's meant to be played, these are the recommended settings from the developers.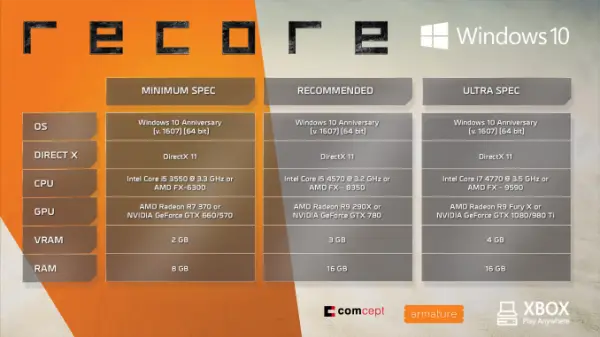 This move towards a seamless environment makes a lot of financial sense for the company, especially with the Xbox One sales falling short of the newly-launched PS4 Pro and Slim. Gaming is a great first step to tying the two previously separate platforms. It's taken a lot of work on the platform side to enable this because only a couple of years ago Microsoft would have had no way to even distribute the game on Windows.
While the company has a lot of catching up to do on the hardware side, Microsoft seems to have finally caught up on a great software game, pitted against the Steam machine and the PS4.