In the past, Microsoft has tried to personalize the Windows 10 OS experience by bringing well-curated content from the web. The News and Interests feature on Windows 10 Preview was one of those additions. However, since its introduction on Windows, the feature has become an annoyance for some people.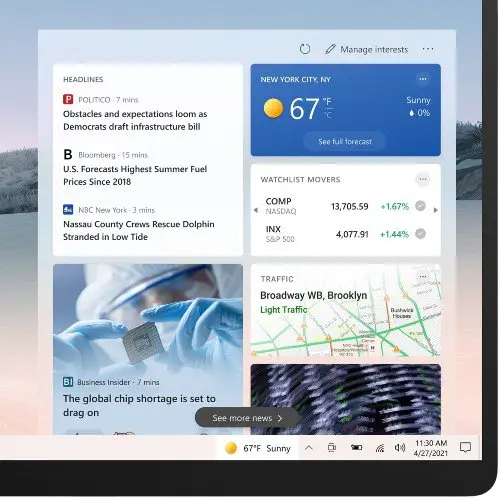 KB5003214 fixes News and Interests issues
With the release of KB5003214, Microsoft has fixed some nagging issues faced by Windows 10 users in News and Interests on the Taskbar.
The developers have fixed the issues through the latest preview update available for Windows 10 versions of 2004, 20H2, and 21H1. Even though Microsoft has not changed how the News and Interests section looks and behaves, users now have better control over it while interacting with the element.
One of the biggest issues with News and Interests is that the element got activated whenever a user placed the cursor in the area. However, through the recent update, Microsoft has added a way to disable this option. Users can now right-click on the taskbar, choose News and Interests from the menu, and toggle the option to Open on hover.
If you have disabled this option, the News and Interests interface will stop activating as you hover on it. Instead, you have to click on the item to find the snackable news updates and interest-based stories.
The update also brings a few more controls to the sector. For instance, you can now turn off the section if you find it useless or annoying. On the other hand, if you think you receive too many updates from the News and Interests section, there is an option to reduce taskbar updates.
In the second option, the updates would appear, but they would not refresh as often as they used to. It is great that Microsoft is taking time to perfect this feature before rolling it out worldwide. If you are on Windows Preview, you can get the new feature by installing the KB5003214 Preview cumulative update.
If you are waiting for the public release of the feature, it could take some time. It is unclear when the News and Interests feature would make its way to a stable Windows update. Judging by the way Microsoft treats this feature, we are sure News and Interests will be a great addition to a more personalization Windows 10 experience.