Microsoft Forms is the software giant's answer to Google Forms. Microsoft has finally expanded the availability of forms to individuals. As a result, users are now able to use Microsoft Forms for their personal use. As the name suggests, Microsoft Forms allows users to create a survey or quiz on a topic of their choice. The service remains accessible via the web as well as the Office mobile app.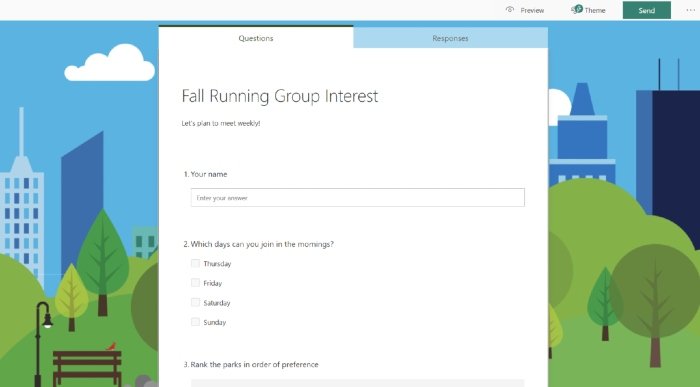 Microsoft Forms available for personal use
"With easy-to-use tools and clear design suggestions, you can gather input and make plans for a variety of activities –survey your neighborhood friends for a weekly running time, coordinate your holiday gathering with family, or even host a virtual trivia night with friends from any location," said Gareth Oystryk, Director of Product Marketing, Microsoft 365.
As distance-learning is becoming more common in the wake of the Covid-19 pandemic, teachers can use Microsoft Forms to engage with students, courtesy if interactive quizzes that support videos. Similarly, parents can use Microsoft Forms to collect information and ideas from other families about organizing fundraisers or other school activities.
Available for personal use, Microsoft Form is free for users with Microsoft users. The service is the continuation of its Business and Education experiences. Meanwhile, some of its premium features such as an expanded number of respondents and more templates are available for Microsoft 365 Personal and Microsoft 365 Family subscribers.
With Microsoft Forms, users can not only create or run their surveys and quizzes but they can also analyze the results of those activities. It offers suggestions in terms of templates, recommended themes, and additional questions depending on the form title.
Users can customize their forms based on different scenarios. For example, users can choose from a range of templates including invitations for holiday and birthday parties, feedback surveys, among other occasions.
"Themes vary from events to holidays, travel, learning, food, and more – or you can use your own photos to personalize your form," Oystryk added.
Surveys created using Microsoft Forms can be shared via a link or QR code. To get started with Microsoft Forms, visit forms.microsoft.com.
Read: Best Free Online Form Builder tools for collecting information.