Microsoft has released several tools to help game developers. Microsoft has announced its latest initiative. The Microsoft Game Stack is an attempt to bring together Microsoft tools and services so as to help developers. This move is expected to empower all kind of game developers.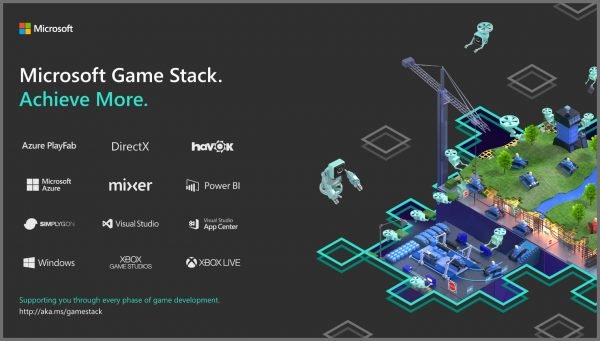 "This is the start of a new journey, and today we are only taking the first steps. We believe Microsoft is uniquely suited to deliver on that commitment. Our company has a long legacy in games – and in building developer-focused platforms."
Microsoft Game Stack
Game Stack is designed to bring together all the game development platforms and services like Azure, PlayFab, DirectX, Visual Studio, Xbox Live, App Center, and Havok. In other words, the game developers will now be able to discover all the tools and services that help create the game.
The cloud part of the Game Stack is powered by Azure and it provides building blocks like compute and storage alongside other advanced features like cloud-native services from machine earning and AI. As far as availability is concerned Azure is already available in 54 regions and is involves in building highly secure and sustainable cloud infrastructure. Azure's robust infrastructure along with worldwide availability should help Project xCloud streaming.
It needs to be mentioned that companies like Rare, Ubisoft, and Wizards have already hosted multiplayer game servers and are securely storing player data, analyzing game telemetry and using AI to offer immersive gameplay.
PlayFab
"Modern game creators are less like movie directors, and more like cruise directors. Long-term success requires engaging players in a continuous cycle of creation, experimentation, and operation. It's no longer possible to just ship your game and move on."- James Gwertzman, PlayFab co-founder.
PlayFab is yet another new piece of infrastructure for Game Stack. PlayFab is involved in providing game-development services, real-time analytics, and LiveOps capabilities. This will allow the publishers to safely launch and scale up multiplayer games by dynamically hosting servers with Azure cloud computing.