Microsoft Office apps have always been Business-centric and they have remained since long. Microsoft impromptu R&D lab, Garage has come up with yet another initiative – Social Share – which will let users share slides directly from PowerPoint on Social Media. They will have an option to post it as an image, album or even as a video. This would be a great feature for people who want to share their presentations on a real time basis without leaving the PowerPoint.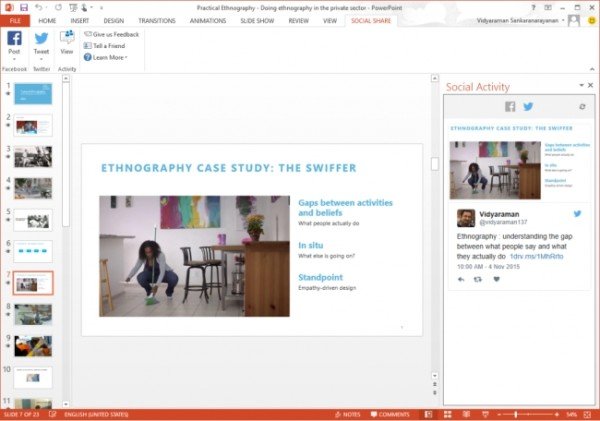 Social Share for Poweroint
Om Krishna, senior software engineer with the Wildfire Office group said that "PowerPoint has rich editing, animations and photos that people might want to share on social media," He further added that "We thought PowerPoint would be a good way to start to find a simple way to share content."
This is my favorite part, being able to bring comments and interactivity and show it in the activity pane on the right side," added Krishna. "We bring all the interactivity on Facebook and you can see it in PowerPoint, bring it all together in PowerPoint.
The Social Share feature would also display the comments from the PowerPoint and it automatically uploads the document to OneDrive, in case you want to share it with your friends or colleagues. Social Share had sparked off at a hackathon event which usually shares concerns with users after the product has been shipped, in other words it strives to enrich the Microsoft product with new features via a plugin.
The developers claim that the tool can be a great way to garner feedback from larger sect of audience and can address the comments on a real time basis, thus bringing in a whole new level of intuitiveness and boost in productivity. This experiment further helps the presenter to share the slides with larger groups and will also help distributed teams in conducting remote conferences.