A new lock screen project from Microsoft is now available for Android users in India. Named as Favorites Lock Screen, the simple app lets you set your celebrities and interests as your favorites for the lock screen image. Microsoft claims it's not just another accidental oversaturation of a lock screen apps category but a new way of empowering consumers to use their device more innovatively.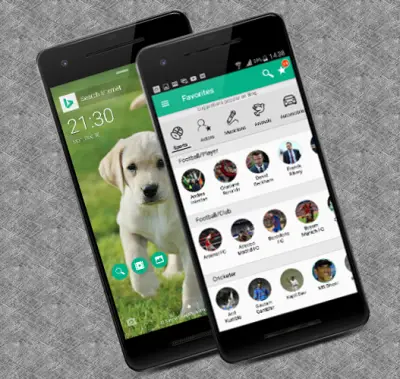 Microsoft Garage Favorites Lock Screen Android App
We wanted to build a lock screen focused on fandom, not just beautiful images. Our app allows people to craft a more personalized experience centered around their passions and interests. Also, we wanted to try something different, said Pavan Kumar Desari, a Program Manager on the Favorites Lock Screen team.
Features
Daily HD wallpapers of your favorite celebrities and interests
Multiple categories to choose from: sports, actors, musicians, animals, and automobiles.
Following the latest news and trends surrounding your favorites
Get quick access to top apps and settings like WiFi, Bluetooth and more, right from the lock screen
Multiple options for unlocking mechanism – PIN, pattern code, or password–protection.
Single-step action (right swipe) from the camera icon to open camera app for taking snapshots.
Notifications display to read notifications without unlocking your phone
Easy and fast search option powered by Bing.
Earlier too, Microsoft Garage had released lock-screen apps in batches of projects, showcasing a wide variety of technologies, platforms and target customers. These included the likes of Next Lock Screen, Tetra Lock Screen, a lock screen for Windows Phone. And finally, Picturesque Lock Screen, an app designed for Android platform. There are seeming similarities between Picturesque Lock Screen and Favorites Lock Screen. Not only do both focus on providing beautiful, interesting images, but both were developed in the Microsoft India Development Center, a hub for incubation projects.
Each of the lock screen Garage project teams however designed their apps for different types of users. You can read more at microsoft.com.