If you use Microsoft emailing app Outlook on your Android and iOS smartphones, you will see more ads disguised as emails, in your Inbox from now. Now, Outlook shows ads every time you open it. This recent update from Microsoft has made it more difficult for the users who use the free version of the app to avoid ads.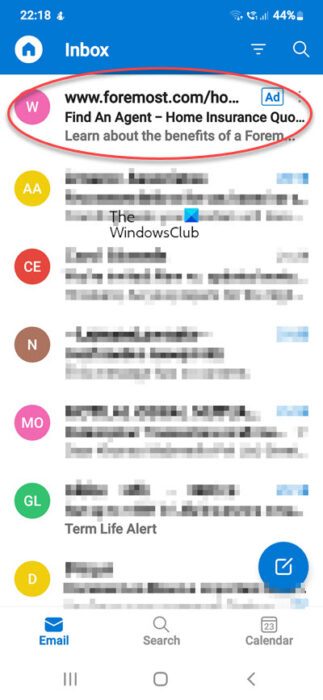 Microsoft gets aggressive with ads in the Outlook app
If you use the Outlook mobile app, you are familiar with its interface. For those who are not familiar with the Outlook mobile app, there are two options to organize your emails in Inbox, Focused and Other. The Focused tab, as the same implies, shows only those emails that are considered important, while the Other tab shows all your emails.
You can enable or disable the Focused Inbox tab in Outlook mobile app settings. If you disable the Focus Inbox tab, you will see only the single Inbox view. Previously, the ads were only displayed under the Other tab for free users. But from now, the ads will also be displayed in the single Inbox view. This attempt from Microsoft has left only one option for the users who do not want to see ads in their Inbox, they have to purchase Microsoft 365 subscription. However, Microsft has mentioned a way for the free users to avoid ads in their Inbox.
"For free users of Outlook, ads are shown in their inbox and they can choose to enable the 'Focused inbox' feature if they would like to see ads only in the 'Other' inbox"
From the above statement, it is clear that you have to enable the Focused Inbox view mode in Outlook mobile app to avoid ads. After that, you will see ads only under the Other tab. You can dismiss the ads simply by swiping them to the left or right. This action will delete the ad. However, another advertisement will appear in your Inbox after some time.
Nobody likes ads. But from now, for the users who want to avoid ads Outlook mobile app, Microsoft has made no choice except to purchase the Microsoft Office 365 subscription.