For those who aren't aware, Microsoft has decided to deprecate Windows PowerShell 2.0 in the upcoming Windows 10 Fall Creators Update. To make things more clear, deprecation is when software is marked as legacy, signaling they might not be around for long. With this being clear as day, users of PowerShell 2.0 must now seek out an alternative as Microsoft may never update the program ever again.
Microsoft to deprecate PowerShell 2.0
Microsoft is giving you time to jump ship. In a blog statement, the software giant made it clear that it plans to give users ample time to make the switch from PowerShell 2.0 before doing away with the program for good. Interested folks can keep up with updates regarding the deprecated software right here, and via Microsoft blogs.
I want to switch from PowerShell 2.0, what do I do?
Here's the thing then, if you're running scripts designed for PowerShell 2.0, then simply switch over to PowerShell 5.1 or PowerShell Core 6.0. These are the newest versions of the software, and of course, everyone should have made a move to the more modern software a long time ago.
Now then, for those who are hosting PowerShell assemblies in any particular .NET CLR2 application, the best option according to Microsoft, is to switch over to CLR4 or .NET Core.
Why has Microsoft chosen to deprecate PowerShell 2.0?
It's simple really. PowerShell 5.x is the star of the show, and not to mention; it comes with several new features designed to improve security among other things. As the company introduces PowerShell Core 6.0 into the marketplace, developers will want to focus on the newer programs instead of the old.
Checking your system for Windows PowerShell 2.0
We recommend running the following command as an administrator:
Get-WindowsOptionalFeature -Online -FeatureName MicrosoftWindowsPowerShellV2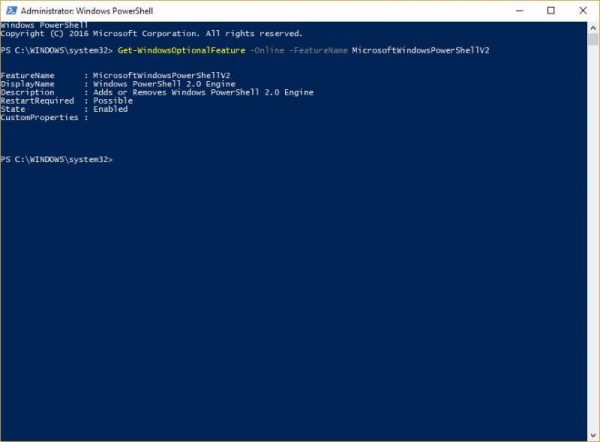 If you're using Windows Server, then run the following:
Get-WindowsFeature PowerShell-V2
If Windows PowerShell 2.0 is not running on your computer, then you should have nothing to worry about going forward.
Read more on tis on MSDN.