At the Edge Web Summit in San Francisco, Microsoft unveiled a new Edge Issue Tracker and Edge Platform Data website for Microsoft Edge and Edge HTML. The event started with Microsoft laying their plan on how it wants to change and improve the ways in which its new Edge browser interacts with the users and the developer community.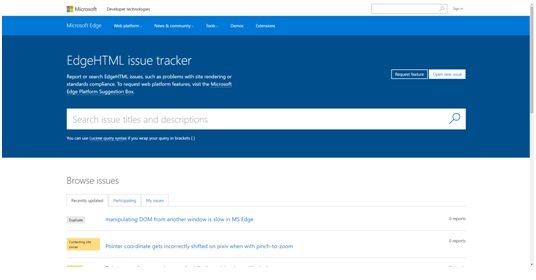 Microsoft also announced the launch of a new Platform Data site where the users can know more about API usage (exclusively Global CSS property usage),
"Internet-scale data is a powerful tool to understand what properties are important to the real web, and what APIs are interoperable across browsers. Now you can access the same data we use to plan the future of the web platform and use it to inform your own development."
Go Ahead and submit your Bugs now
It is much evident from the name itself that the Microsoft Edge Issue Tracker allows the developers to submit bug reports on the Microsoft Edge or HTML, search for present bugs and help Edge engineers to fix the issues.
The new Platform Data site allows the users to know more about API usage. The Internet-scale data works as a very powerful tool, which helps to get a better understanding on what properties, are important to the real web and what APIs are inter-operable across different browsers. With this launch, user can access the same data which is used to plan the future of the web platform and further use it enhance own development.
How will the Edge Issue Tracker help
Easy Feedback Option
The new issue tracker allows the users to give easy feedback option, this feedback will be further analysed by the edge engineers to find any consistencies in the issues found.
Clear Picture of the Problem
According to Microsoft, the system will allow the engineers to have a better picture of problems in Edge. Which means it can listen even better with an issue tracker.
Issue Tracker Integrated to the Engineers Workflow
Microsoft took the decision to build the Edge issue tracker from the ground up, instead of building off an existing issue reporting system. The Edge Issue Tracker is integrated into the Edge engineers' workflow.
Users can report problems easily
With this tracker, users can report any problem that they encounter much easily. They will also be able to search for Edge HTML issues; however, Microsoft will keep the Edge users informed with replies from engineering in what the company describes as "transparent progress".
Go check out the website now.