It is quite evident that Project Spartan is an ambitious project for Microsoft. May be that's why, Microsoft has arranged so many events for Project Spartan, long before its actual arrival! Microsoft is giving yet another chance to public to know more about Project Spartan and interacting with its team by holding Project Spartan Web Summit. The web summit is going to take place on May 5th and 6th, 2015 in Mountain View, CA. The registration is free and it opens today, i.e. on April 14th, 2015 (Tuesday) at 10:00am PDT. So those who are eager to know about the new browser by Microsoft, this is the golden chance you should not miss!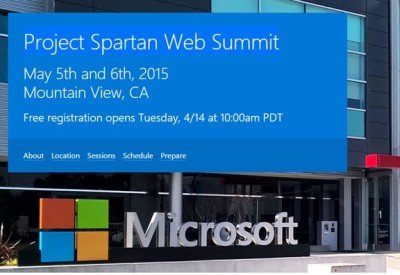 Project Spartan Web Summit
The summit is an important event for Microsoft and the team of engineers working on Project Spartan. There are several sessions that will take place in this summit. However, to summarize the whole event, here are the four main activities that the attendants of the summit will witness:
Meet the team behind Project Spartan: During the summit, attendants will be able to connect with the team working on the project. They can also share their feedback with the engineers behind Project Spartan, the EdgeHTML and Chakra engines, Modern.IE, and RemoteIE.
New updates about Windows 10: Everyone knows that Windows 10 is loaded with numerous features. Microsoft is taking this opportunity to revile some ore updates about their new OS. These technical sessions from the Microsoft engineers will mainly focus on the latest updates to Project Spartan's all new rendering engine, EdgeHTML, and Chakra, our JavaScript engine.
Sessions from the experts in the Web community: You can attend these sessions from the leading authorities in the Web community, such as Sara Soueidan, Kimberly Blessing, Kyle Simpson, Christian Heilmann, and Aaron Gustafson.
Test-drive Project Spartan: What more you can ask for in a summit arranged only for Project Spartan? You can try your site or web application on the latest Windows builds and debug issues side-by-side with Microsoft's Quality engineers in real time.
The Project Spartan Web Summit is an event full of exciting sessions and activities. Don't miss the chance to know more about Microsoft's new projects and updates. To know more about the summit, such as location, sessions, schedule and other information, visit the exclusive website launched for this event.
Registration is now open.