Microsoft Garage, a place where ideas are translated into reality have come up with a new project, dubbed 'Hub Keyboard' for Android. Microsoft Garage encourages its employees to create cross-platform apps in their leisure time.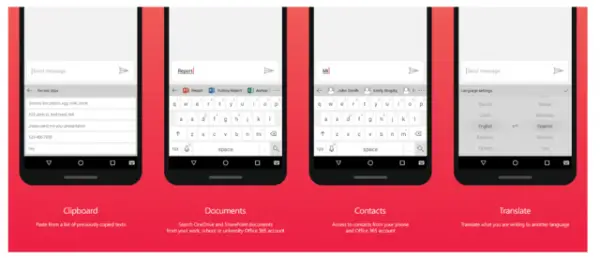 Microsoft Hub Keyboard for Android
The purpose of the app is to keep you engaged in the information and offer Android users easy access to key information and tools without having to leave the app. Features include searching contacts, searching documents and and supporting an easy copy-and-paste method.
Typing on a touch keyboard takes time initially but with a little bit of practice you can speed up typing on a touch keyboard, just like a physical one. The app lets you choose tasks from within any app that requires use of the on screen keyboard.
Hub Keyboard lets you stay in context by bringing information from different services to your fingertips and help complete your tasks faster. Go back to history of clips you've copied, search for and share document links from OneDrive and SharePoint, insert a person's information, and even translate on the go. It is a hub of different extensions, and is designed to help you save time and be present in the application you are using.
Key Features of Hub Keyboard
Document search
Contact search
Easily paste what you copied
Translate what you type
With Microsoft 'Hub Keyboard' for Android, you will now experience the convenience of switching between apps, especially when you're trying to share information with someone via mail or text message. So, bid adieu to all that switching back and forth with the new Android app released by Microsoft. It is now available for a free download on Android devices.
If interested, go and get it from Google Play Store.
Now take a look at the list of all the Microsoft Apps available for Android.