Microsoft is working to implement Linux files integration in Windows 10 File Explorer. In what could be good news for Windows 10 users enrolled for the Insider program, the software maker has announced Windows 10 Insider Preview Build 19603 to Windows Insiders program in the Fast ring. If you are Windows Insider and have Windows Subsystems for Linux (WSL) installed, the Windows Insider Build 19603 should deliver File Explorer Integration in WSL.
Windows 10 implements Linux files integration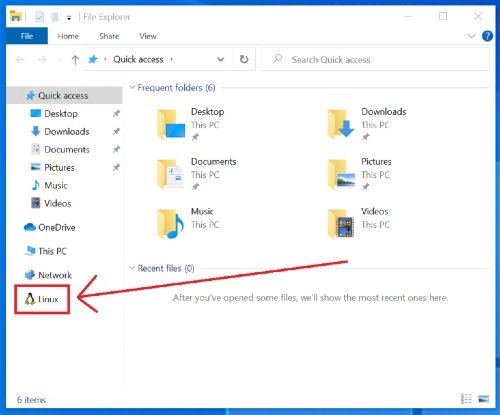 You should be able to notice the Linux icon in the left-hand navigation pane in Windows 10 File Explorer, providing users with easy access to the Linux root file system for installed distros. In his recent blog post, Brandon LeBlanc Senior Program Manager of Windows Insider Program wrote:
"We've had the ability to access your Linux files since Windows 1903, but now you can easily get to them from your left-hand navigation pane in File Explorer. Selecting the Linux icon will show you a view of all your distros, and selecting those will place you in the Linux root file system for that distro."
Last year, Microsoft initially announced its plan to bring Linux files integration in WSL. It makes it easier for users to access the Linux file system from Windows and enhances the management and configuration of Linux distros in the command line. However, users would have to manually locate UNC paths to access Linux files from WSL.
What is WSL?
Short for Windows Subsystem for Linux, WSL is essentially a new Windows 10 feature, allowing users to run native Linux command-line tools directly on Windows. In fact, the company also unveiled a new Windows Terminal command line tool last year. Here's how you can install Windows Subsystem for Linux 2 on Windows 10.
Ultimately, Microsoft is shipping a full Linux kernel in Windows 10. Last year, Microsoft revealed its plans to ship an in-house custom-built Linux kernel as a component in the Windows 10 operating system.
The company is also providing Windows 10 users with access to Bash shell integration, native OpenSSH, Ubuntu, SUSE Linux, and Fedora, among other things. Microsoft will roll out the Linux integration for all Windows 10 users later this year.
Meanwhile, Windows 10 Insider Preview Build 19603 release also delivers user cleanup recommendations in Storage Settings.