If you want to experience Windows Server 2012, Microsoft is presenting a great opportunity to you. Microsoft India has launched an initiative, where it plans to take a Cloud Coach to around 20 cities in India, talking about Windows Server 2012.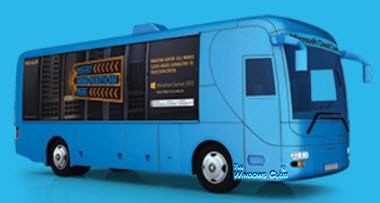 The coach is set to travel across India, covering around 16,000 kilometres in just under 4 months and will visit the following cities: Chandigarh, Delhi, Jaipur, Ahmedabad, Indore, Surat, Nasik, Mumbai, Pune, Hyderabad, Bangalore, Mangalore, Mysore, Coimbatore, Cochin, Trivandrum, Visakhapatnam, Kolkata and Guwahti.
Its cloud grade capabilities add innovation, flexibility, efficiency and agility to your datacenter and get your organization cloud ready. It will be a great way for you to enrich the skill-set of your team, said Srikanth Karnakota, Country Head, Server and Cloud Platform, Microsoft India.
The topics covered would include:
Virtualization Enhancements
Storage Enhancements
Management and Automation
Networking Enhancements
Private Cloud Immersion Experience et al.
The Cloud Coach brings with it, an opportunity to experience Windows Server 2012 – so climb on to the Microsoft Cloud Coach now!