Anil Bhansali, MD R&D at Microsoft India lost his office for a day in an auction. In an interesting auction at MSIDC, Phani Chiruvolu, Hyderabad-based principal software engineer got a chance to use MD R&D's office for a day.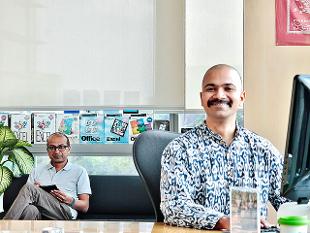 Microsoft believes in 'Giving'  and this unique action was a part of Giving Campaign, a charitable fund raising project of Microsoft. Microsoft's annual Employee Giving Campaign began in 1983 and has been raising funds for various charities since then. It is a month long campaign which includes various sports activities, online auction,  and many other special events.
This year the campaign at MSIDC will be supporting Indian government's 'Swacch Bharat Abhiyaan' and raised funds for sanitation in Indian schools.
Chiruvolu placed a big of Rs 6500 to get the honor for using Bhansali's office and was very happy to win it.
He said, "Spending a day in the MD's room is not something that happens often. So, when it was announced, I jumped at it. What a lovely room with a great view! The room is filled with artifacts telling Microsoft's story. It also displays his (Bhansali's) accomplishments over the years".
However, MD Bhansali was not in Hyderabad during the auction.
Bhansali said, "It is a win-win situation. I intend to give Phani an opportunity again, and this time, I plan to sit in his office."
Some other things placed for bid include homemade chocolate box, one-on-one marathon training session with Bhansali, reserved parking slots for a limited duration, Sachin Tendulkar stamps, lessons in spoken Sanskrit, and coaching and mentoring sessions with the senior leadership team.