Microsoft held its one of the greatest events of the year, Microsoft Inspire, from July 9th to 13th, 2017 at Walter E. Washington Convention Center, Washington, D.C. This 5-day event saw several big names from Microsoft as well as from other industries. Some of Microsoft's participants of the Microsoft Inspire event were Satya Nadella (CEO), Brad Smith (President and Chief Legal Officer), Ron Huddleston (CVP, One Commercial Partner) and Alysa Taylor (GM, Business Applications, and Industry, Cloud + Enterprise).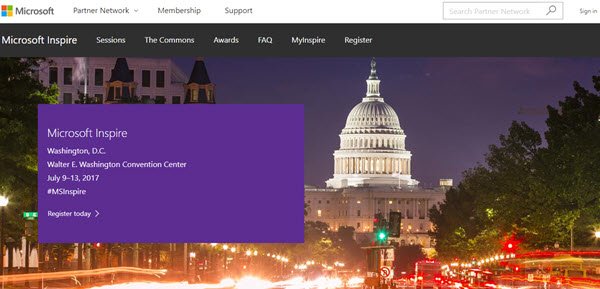 Here is a glimpse at what this amazing event had in store for its attendees for 5 days.
Microsoft Inspire Event highlights
Microsoft Inspire event is not happening for the first time. Earlier it was called as Worldwide Partner Conference. The event opened on July 9th and went on until yesterday, i.e. July 13th, 2017. The event is mainly offered an opportunity for Microsoft to demonstrate its current business growth and new partnerships that Microsoft is making.
Nowadays, Microsoft has opted for a new strategy in which the software giant in partnering with other successful companies dealing in different fields. Thus, together, Microsoft and the partner grow their business use Microsoft as the Launchpad for new products and services. With such associations with Microsoft, the Partners get more business, achieve more enterprise vendor choices for their digital transformation such as Amazon.com and Google.
The event was the place where several new and major announcements were made by Microsoft.
The Day 1 keynote of the Microsoft Inspire event was led by Satya Nadella. It was attended by more than 17,000 partners' representatives. The attendees were also shown a video of how Microsoft technologies like OneDrive and Skype helped American mountain climber Melissa Arnot to communicate during her trek. This was a great example how not only businessmen but people from arts and even adventure sports rely majorly on Microsoft technologies. The Day 1 keynote also featured Microsoft's Corporate VP Ron Huddleston. He suggested that for Microsoft, partners come first and the company wants to do the marketing of the products and services along with its partners.
At Microsoft Inspire event, the company speakers also revealed the Microsoft 365 Business and Microsoft 365 Enterprise editions. Microsoft 365 Business edition includes Office 365 Business Premium aimed to help the small business owners. On the other hand, Microsoft 365 Enterprise edition includes the latest and most advanced technology for empowering employees at any enterprise.
During the event, CEO Satya Nadella also talked about the advancements in intelligent cloud and intelligent edge. He mentioned at the Microsoft Inspire event that the new digital era will be of multi-device, and Artificial Intelligence will be part of every next generation application.
To know more about this event, the highlights of its keynote and updates, visit the official website of Microsoft Inspire event.