Microsoft has introduced a new LinkedIn-powered feature called as "Resume Assistant" that is aimed at helping professionals build better resumes while applying for jobs. While making your resume on Microsoft Word, as soon as you select your preferred job role and industry, Resume Assistant, will make use of LinkedIn data from millions of similar member profiles and will throw up various samples of how other professionals in that role describe their work. This will give you a good measure of how you should be writing your profile while applying for a job. Resume Assistant will also allow you to see relevant job opportunities on LinkedIn that are suited to you.
Microsoft acquired LinkedIn for $26.2 billion in 2016, and there was a lot of discussion of how the company would utilize LinkedIn's rich database of professionals. The company soon followed up with a dedicated LinkedIn app for Windows 10 and is now back with an even better feature in Resume Assistant.
Making the announcement, LinkedIn mentioned in a blog post,
Creating a resume that accurately represents who you are, what you've done and in a way that is tailored to the role you're aspiring to, is one of the biggest challenges for professionals. In a recent survey of U.S. professionals, nearly 70% stated the most challenging part of writing their resume is not knowing whether they are portraying themselves in the most effective way, and more than 50% reported that customizing their resume for a specific role was a roadblock to success.

After you select your desired role and industry, Resume Assistant will pull LinkedIn insights from millions of member profiles so you can see diverse examples of how professionals in that role describe their work.
Working with LinkedIn Resume Assistant on Word
Resume Assistant will show you LinkedIn's 11 million+ active job openings to start with. Along with job openings, you'll see details of what the job requires, helping you to tailor your resume to a specific role.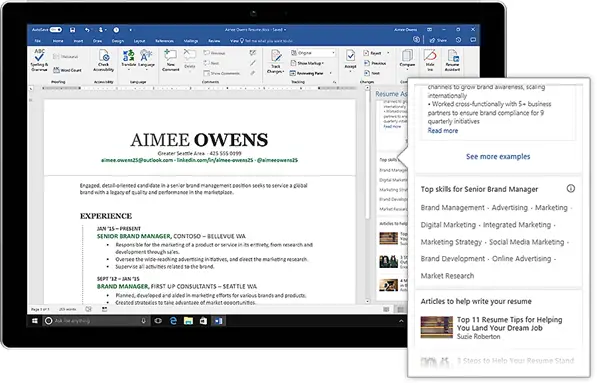 If you are interested, you can go directly to the job opening on LinkedIn where you can learn more about the opportunity and apply. There is also an option to turn on Open Candidates. This is a signal to recruiters that you're open to new opportunities and makes you twice as likely to hear from recruiters.
LinkedIn says that the Resume Assistant will first be rolled out to Microsoft Insiders starting this week on Windows and will be generally available to Office 365 subscribers in the coming months.