Microsoft Teams has announced the availability of Zoho Notebook, which is a note-taking app. Now that Microsoft has integrated Zoho Notebook into Teams, Zoho Notebook and Microsoft Teams users will be able to create, access, and edit their note cards without switching web browser tabs. Microsoft Teams users can organize their note cards by creating and associating them with Zoho Notebook.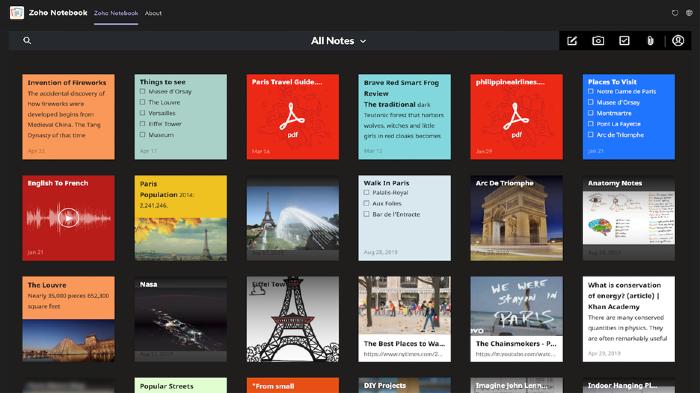 Zoho Notebook for Teams now available
What's more, Microsoft Teams users can also personalize their Notebook by color-coding their note cards and choosing their notebook covers. If you are a Microsoft Teams user, all you need to do is install the Zoho Notebook tab for Microsoft Teams. The new Zoho Notebook-Microsoft Teams experience aims to help users stay organized and increase their productivity.
In its blog post, Microsoft wrote:
"Save time and jot down your thoughts the moment you think of them using the new Zoho Notebook tab for Microsoft Teams. Take notes, create to-do lists, capture moments, and add files and spreadsheets with the different types of note cards in Notebook. You can also access and edit your note cards without having to switch tabs."
Associating your note cards to notebooks via Microsoft Teams is possible. It will ensure that users are more organized and productive without switching between two separate services online. What's more, the app also allows users to group their note cards as favorites. It makes the discovery easier since this way, users can find them easily.
The service also allows users to personalize their cards. For instance, in addition to color-cording note cards, Zoho Notebooks also adjusts itself according to themes in Microsoft Teams. For privacy and security, you can lock your notes using a passcode.
Free Zoho Wallet credits worth $500
Zoho is providing Microsoft customers with Zoho Wallet credits worth $500, which will be valid for 60 days. The coupon code Microsoft2Zoho is available to those who sign up for Zoho wallet on or before December 31, 2020. The wallet credits can be used to purchase or upgrade Zoho services.