Microsoft has launched a digital markup tool for Windows 10 users called as Bullclip. Available as a Windows 10 app, Bullclip is a design and construction drawing markup/management tool that is ideal for project teams helping them to collaborate easily.

Using Bullclip, you can upload your documents on the web app, then mark up on the Windows 10 app and after that use it anywhere, be it from your office, home or while you are on the move.
Bullclip is exclusively for assisting drawing management in a project allowing various teams to mark, comment, save and access drawings among each other without maintaining document versions. The app works best with Surface Hub, utilizing powerful inking and multi-touch capabilities of Windows 10.
Here is what all that you can do with Bullclip.
Bullclip's own Vectorview
Bullclip has its proprietary document viewer named as Vectorview. Vectorview optimizes documents based on where you are focusing at any current time. No more will you have to wait until a document is downloaded and rendered in full.
Extensive Markup and precise inking
Shapes, cloudy tool, pens and arrows. Bullclip contains a variety of tools making document management really easy.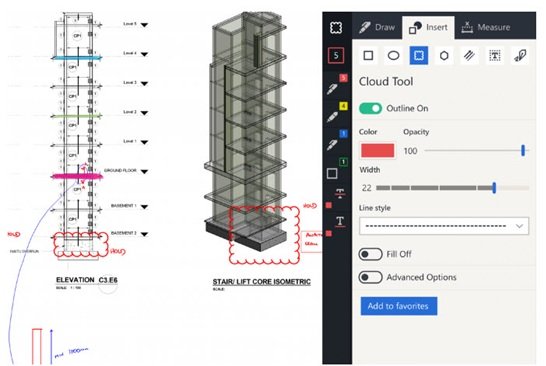 Secure Document Storage
One of the important aspects of a project management tool is having a secure document storage with other built-in features. Bullclip contains all; you can add team members with project-level permissions, and collaborate on documents all stored in enterprise-grade cloud storage from Microsoft Azure.
Arriving Soon
Below are the features which are expected to be released soon!
Hotspots and Issues
Soon Hotspots would allow users to add valuable data right onto your drawings in Bullclip. Further, there would be a feature that could eliminate delays related to the resolution of issues and RFIs by communicating directly within hotspots.
Real-time Teamwork
Arriving soon, Real-time Teamwork would allow real-time communication between users. You will get to know the entire activity timelines on the project, drawing or hotspot levels, and receive notifications based on @mentions.
Document Management
Calling for greater control on document management, Bullclip would soon allow unlimited active and archived projects, all while maintaining project and drawing level security.
Bullclip availability
The app is available for download on Windows store where users can register for a 30-day free trial. Click here to get the app.