Microsoft's Senior Program Manager of the Windows Insider program, Brandon LeBlanc recently announced Flight Hub. It is a website that will be a one-stop shop for all the Windows Insiders to get to know about builds being released to them. It is a website that will be centralized to get the information about Preview builds available for PC, Server, IoT, and SDKs as well as ISO images. This information includes the history of all the build releases with dates and statistics.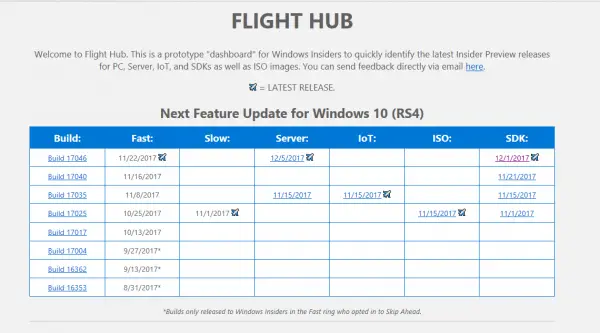 Flight Hub for Windows Insiders
Welcome to Flight Hub. This is a prototype "dashboard" for Windows Insiders to quickly identify the latest Insider Preview releases for PC, Server, IoT, and SDKs as well as ISO images.
Previously, The Windows Blog was the only spot where all the release information along with every other bit of official news and announcements from Microsoft were present. This does not mean that the Windows Blog updates from the Windows Insider Program team will be discontinued, but this new Flight Hub will be the spot where all the indexing of everything about the Windows Insiders program will take place. Without all the complex and time-consuming searching on the Windows Blog website, Insiders will be able to get to the change-log of the desired build, get the latest official ISO files for their desired builds faster.
This website is still in development and will be getting more features and design changes in the coming weeks. So, stay tuned for all the new Windows Insider goodness coming soon, and if you have any feedback, please make sure you email it here. Please keep this in mind that your feedback matters and the team is always looking out for it.
If you are new to this, please make sure that you check out the sign up for the Windows Insider Program and be a part of the Millions who help in shaping up Windows for Billions.
You can check out the new Flight Hub website here.