After organizing the YouthSpark programs in many different countries for last few years, Microsoft is now focusing on the youth in Vietnam. Moving ahead with its YouthSpark program, Microsoft Inc. today announced that it will invest US$3 million in Vietnam over the next three years. The program designed by Microsoft to support 300 million youth in 100 countries by creating education and employment opportunities for them.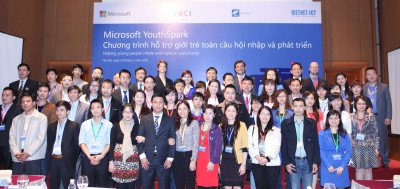 Today at the announcement ceremony of YouthSpark program in Vietnam, President of Microsoft Asia Pacific, Cesar Cernuda made a speech saying, "Vietnam is an important emerging market for Microsoft in Southeast Asia with great growth potential. With its large, young, highly mobile and socially-engaged population, we believe that the country is poised to fully leverage the power of technology to grow and compete on a global stage."
The US$ 3million investment will be used to groom the young people in Vietnam, help them learning more about technology and provide technology skills training along with opportunities employment and entrepreneurship. Vietnam Chamber and Industry has been Microsoft's community partner for long time and this announcement will certainly help developing the economy and improving youth lives in the country.
Talking about the program in Vietnam, Vu Minh Tri, General Director of Microsoft Vietnam, said: "This is also another step toward transforming Vietnam's into an advanced IT nation in 2020 as part of its 10-year ICT development plan, where youths will play a critical role".
The YouthSpark program in Vietnam further includes:
Computer science education
Graduate Internship at Microsoft Factory
Range of technology courses and resources
Digital literacy skills and
Scholarships
Microsoft in collaboration with VietNet-ICT will provide the Basic Technology Skills to 1,200 young people. Furthermore, the software giant will also train the 16,500 underserved young students in BAC Ninh, Hanoi and Ho Chi Minh in this three years program.