With a plan to make stronger connections across Pacific and Atlantic oceans, Microsoft recently announced the investment in subsea fiber cables. The Company has been significantly investing in the fiber partnerships for last nine months with and aim to connect their datacenter globally and speed up the data recovery and make its cloud service the most accessible, secure and reliable.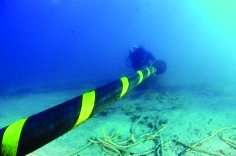 Fiber companies, Hibernia and Aqua Comms are already partnered with Microsoft to connect the company datacenters in North America to the UK and Ireland via Atlantic Ocean. These cables will deliver data at with higher capacity, higher speeds, and lower latency for the customers worldwide.
Microsoft managing director for network enablement David Crowley writes in the official blog, "As people and organizations expect data and information at their fingertips Microsoft must have an infrastructure that can deliver the cloud services, including Azure, which our customers need to support their global businesses".
Furthermore, Microsoft has also joined a group of Chinese telecom companies to build a transpacific undersea cable that will provide faster data connections and greatest access to scale and highly available data anywhere in the world.
Since the cloud space is extremely competitive, it's not just Microsoft who has invest in undersea cables. Search engine giant Google invested $300 million to connect cities in West Coast U.S to Japan last year.
Competition in the cloud and infrastructure space continues to heat up. But it's not a battle that will be won on just cloud or infrastructure alone, but instead on holistic innovation and providing value to customers from the "sea to the sky" says Microsoft.