Microsoft is striving hard to unite its community and foster the Windows ecosystem by inviting its users and taking input from them. The company had recently invited some of its Insiders for the Lumia launch party and now some of the Windows Insiders from India have got a mail asking them to help Microsoft design the next Windows 10 device. However the invite clearly mentions that this is only for India. The recipient of the mail is further lead to a questionnaire which they need to fill out to join the program.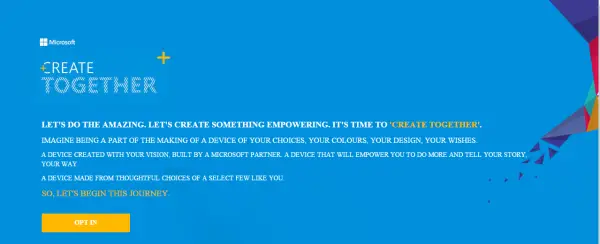 Help build the next Windows 10 device
The mail says and we hereby quote,
"Want to help create the next Windows 10 device? We are currently inviting Windows Insiders right here in India to provide ideas and insights that will directly influence our design and development process. Help shape the future, to register click here"
On a separate note Microsoft has pulled the wraps from a series of devices recently, including the Surface Book, Surface Pro, Xbox One, Lumia 950 and the Lumia 950 XL, while some of them are already available while the others will be hitting the stores shortly.
As we said earlier Microsoft wants to blend with the users so that it will help them gauge the pulse of the customers, something that new companies like Xiaomi are doing very well.
By the looks of it Microsoft seems to be serious about brainstorming Insiders to help them with their new product, although I am not sure how this entire episode will turn out to be, it is still a laudable effort from Microsoft.